Dir/scr: Kim Seong-hun. South Korea. 2016. 126mins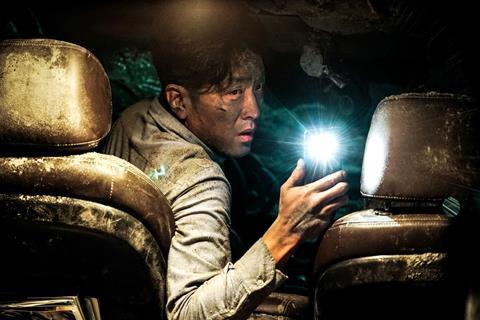 A marriage of director Kim Seong-hun's dark humour and social critique, Tunnel smartly probes some of the problems in Korea surrounding the issue of public safety. Although fictional, there are clear similarities here to the tragic Sewol ferry sinking in 2014 which killed 304 passengers.
Kim successfully captures the loneliness and entrapment underneath the debris and the chaos outside
Safety is a recurring issue for a society which has developed so rapidly, and Korean audiences have repeatedly demonstrated their appetite for films dealing with topical issues (Inside Men, Veteran), which could give the film a longer shelf life after a domestic opening on August 10, despite a lack of outright melodrama. Doona Bae's star-power will also help.
International audiences tempted by Kim's critical and commercial hit A Hard Day should welcome Tunnel's well-balanced tonal shifts, even though the film doesn't quite hit the same narrative momentum as his previous feature. The film begins its international run at Locarno before heading to Sitges in October.
The film follows car dealer Jung-su (Ha Jung-woo) as he drives home to his wife and daughter. He enters a tunnel which collapses as he is driving through it, leaving him buried under the rubble. This short but terrifying sequence underscores Kim's strong yet also subtle craftsmanship, enhanced by Mok Young-jin's understated score.
Jung-su manages to find reception and makes a phone call to the emergency services who neither understand the severity of the situation nor ask him the right questions, failing to inquire as to his condition. Once the first responders, led by rescue chief Oh Dal-su finally arrive, they are clearly inept are dealing with the situation, bringing out an operation manual that is useless. In fact, it's the press who make contact with Jung-su, turning the whole situation into a farce.
Jung-su is soon informed that it will take days to reach him, and he is left with just two bottles of water and his daughter's birthday cake for nourishment. Politicians also enter the scene, including a minister played by Kim Hae-sook (The Handmaiden), but just get in the way.
Jung-su's wife, played by Doona Bae, discovers what has happened from watching the news in a supermarket, and comes to the site to discover the tunnel has collapsed further. She is soon asked to meet the minister in front of the local press.
International viewers may be taken aback by the lack of urgency in getting Jung-su rescued, and also how the authorities are willing to go ahead with the construction of a nearby tunnel. Korean audiences, however, will accept this scenario isn't quite as far-fetched as it seems.
Kim Seong-hun places most of the action either inside the tunnel or its immediate vicinity, capturing the loneliness and entrapment underneath the debris and the chaos outside. After successfully playing a radio host in a confined studio space in Kim Byung-woo's The Terror Live, Ha Jung-woo seems well-suited to the lead role. Character actor Oh Dal-su (Veteran) playing the rescue chief, brings his customary authority to the role. Doona Bae (Cloud Atlas) doesn't quite get the screen time her fans might have hoped for, although she delivers a smooth performance, both authentic and captivating.
Production Companies: Another Sunday, History E&M, B.A. Entertainment
International Sales: Showbox Inc. (http://showbox.co.kr/english/index.asp)
Executive Producer: You Jeong-hun
Producers: Lee Taek-dong, Kim A-ran, Billy Acumen
Screenplay: Kim Seong-hun (Based on the novel Tunnel published in 2013 by So Jae-won)
Cinematography: Kim Tae-sung
Production Design: Lee Hwo-kyoung
Editing: Kim Chang-ju
Music: Mok Young-jin
Main Cast: Ha Jung-woo, Doona Bae, Oh Dal-su