Dir: Joel Schumacher. France/US. 2009. 94 mins.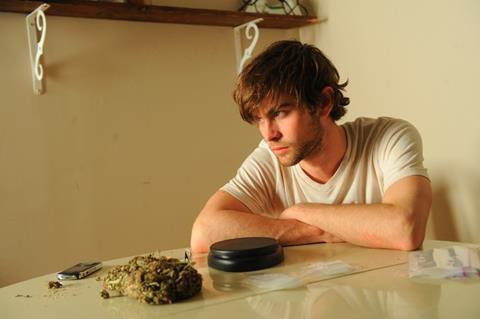 Shining an unfavourable light on the spoiled teenagers of Manhattan's wealthiest families, director Joel Schumacher's Twelve amplifies the lurid appeal of these privileged kids' lives but too often mistakes sensationalism for insight. Based on Nick McDonell's novel, Twelve has a tawdry quality that keeps the proceedings sleazily entertaining, but the film overdoes its edgy attitude and hedonistic worldview.
Schumacher oversells the characters' glitzy, depraved milieu
With no major film stars among Twelve's young ensemble cast, potential distributors will probably lean on the film's frank depictions of sex and drugs in to stir up some media coverage, although emphasising Twelve's scandalous content will only take the film so far theatrically. Considering the amount of successful sexed-up television dramas focused on and catering to teens (Twelve's leading man Chace Crawford crosses over from one), this film may ultimately find its best audience on DVD and cable.
Reeling from the death of his mother, White Mike (Crawford) has dropped out of high school to become a drug dealer to his rich former classmates (the film's title refers to one of his products). As a result, White Mike is an in-demand supplier for New York's wealthiest teens, a collection of pampered brats obsessed with nose jobs, expensive cars and lavish house parties. But soon a drug-related murder will bring unexpected repercussions for Mike and his customers.
Much in the style of director Larry Clark's 1995 adolescent drama Kids, Schumacher has crafted Twelve to be a no-holds-barred exposé of a group of young people who have become immoral heathens run amuck. But while Kids focused its attention on lower-class New York teens, Twelve targets the wealthy, who have been raised in a life of privilege so removed from ordinary adolescents' experiences that they have become cruel, shallow and savagely materialistic.
Schumacher and cinematographer Steven Fierberg successfully drape Twelve in a flashy decadence which embodies these teens' excessive lifestyles. And while the film's opulent, occasionally hyper-stylised look engages the eye, Schumacher oversells the characters' glitzy, depraved milieu, particularly in his decision to include an unseen narrator (played by Kiefer Sutherland) who speaks in a fatalistic, tough-guy tone. Like the film itself, the narration's blasé edginess strains so hard to scandalise with its frankness that it quickly devolves into self-parody.
As White Mike, the charismatic drug dealer still mourning his mother, Crawford has the scruffy handsomeness and soulful eyes required to make this antihero swoon-worthy, but screenwriter Jordan Melamed hasn't given the character much of a drive or personality. The supporting cast consists largely of prodigiously attractive young actresses who are encouraged to act spoiled and slutty. Only Emma Roberts makes much of an impression as White Mike's kind-hearted friend Molly, who knew Mike before he became a dealer and represents an innocence and sweetness wholly missing from his current clientele.
To sign up for Screen's weekly Reviews Newsletter with all the week's new releases, international openings and full festival reviews delivered free to your mailbox every Friday, please click HERE
Production companies
Gaumont
Radar Pictures
Original Media
US sales
Creative Artists Agency
(1) 424 288 2000
International sales
Gaumont
+33 (1) 46 43 21 90
Producers
Sidonie Dumas
Ted Field
Charlie Corwin
Jordan Melamed
Bob Salerno
Screenplay
Jordan Melamed, based on the novel by Nick McDonell
Cinematography
Steven Fierberg
Production design
Ethan Tobman
Editor
Paul Zucker
Music
Harry Gregson-Williams
Main cast:
Chace Crawford
Emma Roberts
Rory Culkin
Zoe Kravitz
Curtis Jackson
Ellen Barkin
Kiefer Sutherland