Dir/scr. Alan Gilsenan. Can-Ire, 2016. 90mins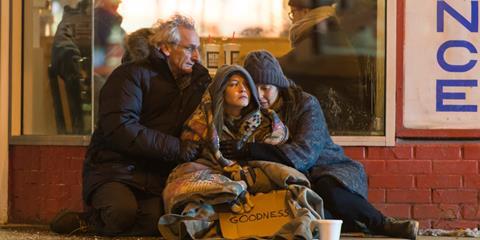 The relationships of women, with each other and with the world around them, are the building blocks of Unless, an adaptation of the final novel by late Canadian writer Carol Shields. It's a film which has many astute points to make but often risks losing them in a narrative that is wilfully - perhaps, for many, infuriatingly - enigmatic. Its dramatic lynchpin is Catherine Keener, putting in a compelling performance as a successful Toronto mother of three who finds her happiness placed in jeopardy by the bizarre behaviour of her eldest daugher.
This theme of female disenfranchisement underscores the narrative, sparking intriguing interactions
After making its bow at Toronto, the film should play well in its native Canada thanks to homegrown source material and evocative use of locations. Beyond, an introspective narrative and contemplative ouvre may not chime with a wide theatrical audience but word of mouth, particularly amongst the book's fanbase, should see it thrive on smaller screens.
Keener's Reta is the very definition of a modern, multi-faceted woman; doctor, author, translator (of the work of terminally ill French novelist Danielle, played by Hannah Schygulla) and mother of three upwardly mobile, energetic daughters. This idyllic life comes crashing down, however, when she and partner Tom (Matt Craven) discover eldest daughter Norah (Hannah Gross) sitting mute on the freezing Toronto sidewalk, holding a sign reading, simply, Goodness. Despite their increasingly desperate attempts to reason with her, Norah refuses to budge, physically and emotionally, forcing Rita to reassess her own outlook on life and attempt to reach a higher plain of understanding.
Shields' original novel was deliberately idiosyncratic, a intentionally piecemeal, satirical reflection on the loss of innocence and the frustrations of the societal status quo, as well as a celebration of the myriad individual moments of experience and existence. On screen, however, writer/director Alan Gilsenan's determination to remain true to both the form and tone of the book can make for frustrating and, at times, overwrought viewing.
Much of the film is composed of lingering shots - one corner of the house, trees dancing in the breeze, a motionless Norah - all suggesting a slowing of time, a life lived in tableau. Silhouetted in a car, the family weeps together. Norah gives a half smile as she watches a homeless man dance under a concrete underpass. And so on. The musical cues are equally as heavy handed, an abundance of twinkly piano and melancholy strings shovelling emotion like the drifting snow that muffles the landscape.
Still, there are frequent moments of powerful clarity. Unless is strongest is in its exploration of gender, the novel's theory that Norah's sidewalk protest is a direct response to the problem of 'female exclusion' explicitly expounded by Danielle. 'She just has to go back to the traditional refuge of woman - passivity, powerlessness - and she needs to embrace it with this elegant, impotent piety.'
This theme of female disenfranchisement underscores the narrative, sparking intriguing interactions - between Reta and her daughters, her sister, Danielle- full of vim and vigour, respect and understanding. These are effectively contrasted with uncomfortable moments in which she is spoken over and condescended to by both a male journalist and her male editor; the suggestion that this is the universal female experience both marked and resonant. The in-crisis dynamic between Reta and Tom is also fascinating; whereas she blames herself for Norah's behaviour and wants to understand, he simply wants to sort the situation by any means necessary; having Norah committed, dragging her home.
As winter turns to spring, and flowers push through the melting snow, Norah's hospitalisation also brings a thaw to familial relations and we finally learn the catalyst for her silent protest. It's a wildly dramatic revelation that's perhaps a little too on the nose, but nevertheless effectively drives home the film's central conceit; that we should all take time to acknowledge, and, appreciate, the individual moments that make up a narrative, and a life.
Production Companies: Sienna Films, Subotica Entertainment
International Sales: International Film Trust (IFT), inquiries@iftsales.com
Producers: Jennifer Kawaja, Julia Sereny, Tristan Orpen Lynch, Aoife O'Sullivan
Executive Producers: Hussain Amarshi, Jason Garrett, David Rogers
Cinematography: Celiana Cardenas
Editor: Emer Reynolds
Music: Jonathan Goldsmith
Production Designers: Tim Bider
Cast: Catherine Keener, Matt Craven, Hannah Gross, Chloe Rose, Abigail Winter, Hannah Schygulla