Actor/singer Rene Liu makes her directing debut with a bittersweet romance which opened well over the last weekend of April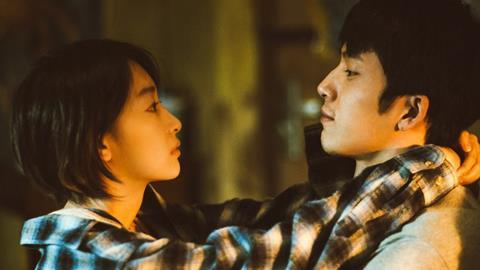 Dir: Rene Liu. China. 2018. 120 mins
Taiwanese singer-actress Rene Liu makes her directorial debut with Us And Them, the kind of decade-spanning love story which could easily be condensed into one of her wistful pop songs but nonetheless proves sincerely affecting when it hits the right notes. Taking place for the most part in the economically-accelerated Beijing of the late 2000s, the young couple at its centre is emblematic of the thousands who move to the capital with inflated expectations, only to find that the daily grind whittles down their passion for all aspects of life. As has become standard practice for romantic fare in mainstream Chinese cinema, it roughly divides events between the travails of the recent past and a cathartic reunion in the present in order to tug at the heartstrings.
Liu deftly handles the peaks and troughs of young love, eliciting winning performances from Jing Boran and Zhou Dongyu
Given that Us and Them is set from 2007-2018, it could enjoy a healthy local box office run if it strikes a chord with the generation of cinemagoers who have chased prosperity in China's major cities. It certainly started well with an $88m opening weekend ahead of the May holiday week. While it may not resonate quite as strongly internationally, it's so luminously shot by renowned cinematographer Mark Lee Ping-bing that festival slots and moderate theatrical exposure seem guaranteed.
Our lovers here are Jian Qing (Jing Boran) and Xiao Xiao (Zhou Dongyu) who meet on a packed train service from Beijing to their hometown during the busy Lunar New Year period. Jian Qing is particularly taken with Xiao Xiao's ability to drink and play cards, but remains stuck in the friend zone because she is set on marrying a Beijing native who already has a property in the capital.
Back in the big city, both end up working at the city's bustling electronics market since Jing Qing is an aspiring games designer and Xiao Xiao wants to meet the eligible businessmen who come to buy the latest software. However, she suffers a string of failed relationships with older men who are either incompatible or already married, and ends up moving in with Jing Qing.
After belatedly revealing their true feelings for one another over a drunken evening, they embark on a relationship, although attitudes to life are swapped over the next few years. Jing Qing's initially pursues his dream over stability, but becomes more concerned with achieving financial success after overhearing friends gossiping about his lowly circumstances. Meanwhile, the once property-fixated Xiao Xiao is inclined to shrug off accepted barometers for true happiness. A rift develops that is further exacerbated when Jing Qing develops a temper and succumbs to playing violent video games for hours at a time.
Their thwarted romance is juxtaposed with present day scenes in which Jing Qing and Xiao Xiao meet by chance when their flight to Beijing is canceled because of severe weather conditions. Liu shows the present in austere black and white, but recalls the past in rich colour to emphasize the notion that the toughest times are the best because people express themselves to the fullest.
The one-room hovel Jing Qing and Xiao Xiao share is a warmly lit, personalised space where they drink cheap beer and banter away in unreserved fashion. There's some bawdy laughs in the early stretch, too, from the sound of Jing Qing's neighbours' lovemaking coming through the thin walls to the infatuation with Japanese AV idols, especially Sora Aoi, amongst lonely young Chinese males.
Still, Liu doesn't shy away from the manner in which the vaunted 'Beijing dream' remains just of reach. Straddling the presidential terms of Hu Jintao and Xi Jinping, Us And Them serves as a tacit commentary on the false promises of China's economic rise, which have left those trying to make it in Beijing without connections stranded in mundane jobs. Jing Qing deals with irate customers when he takes a call center position, while Xiao Xiao's professional shift to real estate entails averting unwanted advances from potential buyers.
The film has five credited screenwriters but they must have all been on the same page, as its shifts in tone feel natural, at least until the final third, which runs through a checklist of sentimental clichés. Liu deftly handles the peaks and troughs of young love, eliciting winning performances from Jing and Zhou. Neither shies away from their characters' flaws and the actors create relatable people whose relationship constitutes a genuinely bittersweet near miss. The performance that really lingers, though, is veteran director turned occasional actor Tian Zhuangzhuang as Jing Qing's father. As in Sylvia Chang's family drama Love Education (2017), Tian conveys unconditional understanding with the smallest gestures and delivers advice in a gruffly affectionate manner.
Us and Them may be too familiar to thoroughly distinguish itself from the spate of similarly themed love stories that have been churned out following the breakthrough success of Zhao Wei's So Young (2013), but it's certainly one of the more nuanced entries in the cycle and bodes well for Liu's future behind the camera.
Production companies: Beijing Huajuaduoduo Culture Co., Ltd., IN'R Films Co., Ltd., Such a Good Film, Tianjin MaoYan WeYing Media Co., Ltd.
Producers: Patricia Cheng, Dong Ping, Zhang Yibai, Zheng Zhihao
Screenplay: An Wei, He Xinming, René Liu, Pan Yu, Yuan Yuan
Production design: Zhai Wei
Editing: Kong Jinglei, Liao Ching-Song
Cinematography: Mark Lee Ping Bing
Music: George Chen
Main cast: Jing Boran, Zhou Dongyu, Tian Zhuangzhuang, Qu Zheming, Zhang Zixian