A young boy finds evil lurking in the woods in this atmospheric Norwegian chiller.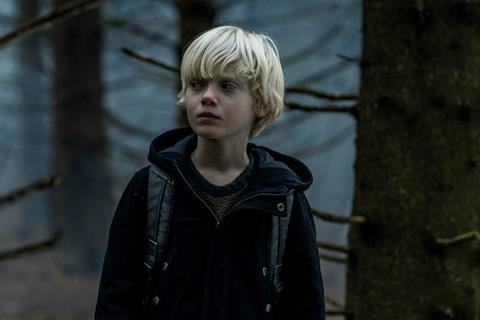 Dir/scr. Jonas Matzow Gulbrandsen. Norway. 2017. 91 mins.
An entrancing Norwegian gothic fable told with haunting visuals and striking tonal assurance, Valley of Shadows turns childhood fears into a ruminative and resonant horror effort. Predicated around a mysterious spate of sheep slaughters during a full moon, and playing with loss and grief in its wander through sinister woods, it marks a strong debut for Norwegian writer/director Jonas Matzow Gulbrandsen, as well as an enigmatic and magnetic addition to the atmospheric Nordic fold.
Although the story stems from an original script, it boasts the air of a foreboding, Peter and the Wolf-esque fairy tale
Like noir, the horror realm has become one of Scandinavian cinema's staples — and like many of the region's best examples of both, Valley of Shadows has the potential to attract an audience. Premiering at Toronto, and certain to garner interest from genre festivals at a minimum, this is an alluring feature capable of parlaying its preference for moody 35mm-shot imagery and scant dialogue into further attention. Indeed, the quiet, evocative approach worked for Sweden's Let the Right One In, and it could again here with the right support.
Although the story stems from an original script by Gulbrandsen and Clement Tuffreau (Sam Was Here), it boasts the air of a foreboding, Peter and the Wolf-esque fairy tale. This literary theme lingers over the feature in other ways, such as six-year-old Aslak's (Adam Ekeli) drawings of people and monsters, and the complex illustrations his ten-year-old pal Lassee (Lennard Salamon) leafs through when announcing that a werewolf is responsible for the ravaging. They're both telling inclusions; while its detailed sights are far more sophisticated than a boy's scribblings, the movie is grounded in its young protagonist's perspective.
Frequently spied peering at the world with curious but cautious eyes, through windows or doorways, from stairwells or behind barriers, Aslak is intrigued by the animal attacks, which local farmers chalk up to regular wolves. Venturing near the woods, he is, however, wary enough not to go too far. Often left to his own devices as his mother, Astrid (Kathrine Fagerland), struggles with his absent older brother's tragic troubles, he eventually steps well into the mountainous thicket after his beloved border collie runs off.
Though the towering foliage and the dense fog slowly blanketing the rural town are real, resulting from a stroke of savvy location scouting, where Aslak's woodland experiences sit on the spectrum between dreamlike actuality and imaginative fantasy is left suitably hazy. Wearing a black (not red) hood, he calls his dog's name, loses his way and attempts to locate shelter, before sailing down the stream to encounter a cabin-dwelling stranger (Norwegian rocker John Olav Nilsen).
As the roaming child not quite equipped to process everything around him, first-timer Ekeli is an arresting presence; that cinematographer Marius Matzow Gulbrandsen (Letter to the King), the director's brother, simultaneously endeavours to evoke Aslak's perception of his surroundings while keeping him in the frame is hardly surprising. It's a delicate but effective balance, and one that's crucial to the film's success. This dual approach of observing the blonde-haired innocent standing out against grey interiors, and also seeing his inner stresses reflected in the landscape, thrusts the feature forward.
To provide a correspondingly enthralling yet disquieting score, Gulbrandsen enlists Krzysztof Kieślowski favourite Zbigniew Preisner, whose blend of piano and electronic instruments proves just as astutely crafted. Combined with its child lead, small-town setting and odd goings-on, it may all sound like a trample down popular culture's current, Stranger Things-inspired horror path — and that comparison won't hurt Valley of Shadows' fortunes — but this is its own sumptuously unsettling package.
Production companies: Film Farms AS, Them Girls, Anna Kron
International sales: Celluloid Dreams, info@celluloid-dreams.com
Producer: Alan R. Milligan
Executive producers: Tom Kjeseth, Alexander Hagerup
Screenplay: Jonas Matzow Gulbrandsen, Clement Tuffreau
Cinematographer: Marius Matzow Gulbrandsen
Editor: Mariusz Kus
Production designer: Maria Håård
Costume designer: Sofie Rage Larsen
Composer: Zbigniew Preisner
Main cast: Adam Ekeli, Katherine Fagerland, John Olav Nilsen, Lennard Salamon