Jackie Chan jumps into the exhibition spot vacated by Bond in the US after failing to make an impression at home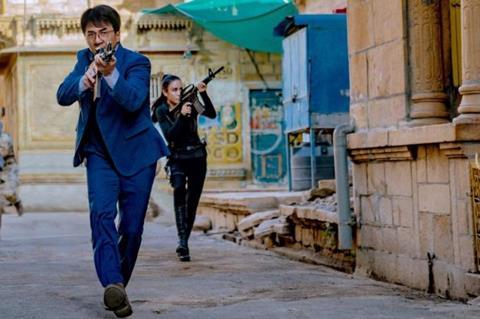 Dir: Stanley Tong. China. 2020. 108 mins
Vanguard sees Jackie Chan trying to ease into mentor roles without relinquishing his action superstar status as he plays the CEO of a private security firm whose team is put to the test when one of its clients is targeted by ruthless assassins. More of branding exercise than a fully fledged star vehicle, this fast moving but instantly forgettable adventure allows Chan to participate in the set pieces while ceding the really strenuous activity to his up-and-coming co-stars.
Operatives who are as incredibly skilled as they are impeccably photogenic
A domestic underperformer at the Golden Week box office in October when patriotic omnibus film My People, My Homeland, animated fantasy Jiang Ziya and sports biopic Leap proved the most popular choices, Vanguard will enter a less crowded international marketplace with a wide US theatrical release on November 20. Cannily jumping into the slot vacated by No Time to Die, it could open to reasonable numbers by Covid-era standards although while it sees Chan rivalling James Bond in terms of globe-hopping locations, this is otherwise a CGI-laden imitation of blockbuster spectacle. The latest in a long line of collaborations between Chan and director Stanley Tong, it's a throwaway effort which finds a once dynamic creative pairing far removed from such triumphs as Police Story 3: Supercop (1992), Rumble in the Bronx (1995) or First Strike (1996) while becoming despairingly reliant on CGI enhancements.
In it, Chan plays Tang Huangting, the boss of security agency Vanguard which provides unrivalled protection to VIP clients all around world, including tycoon Qin Guoli (Jackson Lou) whose dealings in the arms trade land him in the crosshairs of a hit squad known as the Arctic Wolves. Vanguard team members Lei Zhenyu (Yang Yang) and Zhang Haixuan (Ai Lun) thwart an attempt on Qin's life in London's Chinatown, but their attempt to extract his environmentalist daughter Fareeda (Xu Ruohan) from Africa before she is abducted ends in failure with Lei also being captured.
It transpires that the Arctic Wolves are in the employ of the even more menacingly named Brotherhood of Vengeance, a Middle Eastern militia whom Qin double-crossed upon belatedly realising that he had become involved with terrorists. Tang prepares a rescue mission which hinges on the ploy of exchanging Qin for Fareeda and Lei at the militia's heavily guarded compound. When this plan only results in a ton of debris, the stage is set for a big showdown in Dubai.
Although it's perhaps churlish to expect specific detail from an action movie, Vanguard makes little attempt to establish the titular independent agency beyond a line of clunky exposition delivered by one of the bad guys. It's a rather improbable enterprise with operatives who are as incredibly skilled as they are impeccably photogenic, an inexhaustible supply of cutting edge hardware and connections with law enforcement departments around the world. The audience is asked to take this at face value due to the fact that it is run by Jackie Chan. This may have been sufficient in the star's heyday when the flimsy premise would have served as a springboard for his trademark outlandish stunts, but here the 66-year-old Chan is largely reduced to mugging his way through cringeworthy reaction shots.
Tong apes Mission: Impossible and Fast and Furious by structuring the thin narrative around four big action sequences across different locations. These set pieces are efficiently choreographed by Tong, Han Guanhua and the Jackie Chan stunt team with a run of vehicular stunts courtesy of Bruce Law which culminates in a chase involving cars made from gold. However, each section is let down by either ropey special effects or a sense of déjà vu. Africa is marred by a laughable CGI lion straight out of Chan's family comedy Kung Fu Yoga (2017) while the Middle East centerpiece plays like a cartoonish riff on Operation Red Sea (2018) and the climax in Dubai recalls the infinitely superior final act of Mission: Impossible – Ghost Protocol (2011). Uneven editing by Yau Chi Wai's prevents the young performers from making an impression with only the affable Ai emulating Chan's slapstick sensibility when rubbing chili into the eyes of his foes during an energetic kitchen fight.
Originally intended to open in January until the pandemic forced China's multiplexes to shutter, Vanguard is bookended by joyous scenes of Lunar New Year celebrations. As almost everything in-between is half baked, these expressions of holiday spirit only prompt suspicion that Chan and Tong were more focused on capitalising on a release date than making a film that stood up to scrutiny outside it.
Production companies: China Film International, China Film Co., Tencent Pictures, Shanghai Lix Entertainment, Epitome Capital, Shenzhen Media Film & Television
Producers: Stanley Tong, Barbie Tung
Screenplay: Stanley Tong
Editing: Yau Chi Wai
Cinematography: Chris Lee
Music: Nathan Wang
Main cast: Jackie Chan, Yang Yang, Ai Lun, Mu Qimiya, Xu Ruohan, Jackson Lou, Eyad Hourani