Andy Serkis directs Tom Hardy in a vast improvement on the Sony franchise's 2018 original.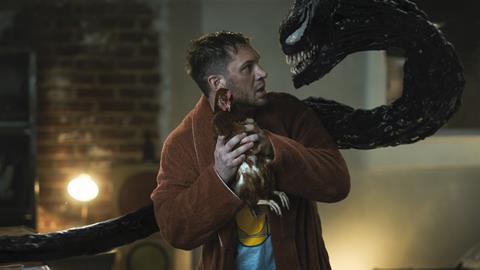 Dir: Andy Serkis. US. 2021. 97 mins.
Venom: Let There Be Carnage is a grander spectacle than the mediocre 2018 original, offering monster-movie mayhem with a welcome sense of humour about its own ludicrousness. And although Tom Hardy may be the star, in some ways he's outshone by Woody Harrelson and Naomie Harris, playing delightfully villainous lovers out to destroy our hero and his rascally alien symbiote Venom. British actor-turned-director Andy Serkis keeps the rambunctious proceedings relatively taut, making room for operatic action and a sneaky emotional undercurrent that pokes through the broad comedy and comic-book grandeur.
The irony of this franchise is that Venom is traditionally Spider-Man's enemy, yet in these films he constantly encounters individuals who are the true bad guys
This Sony release opens in the US on October 1, arriving in the UK two weeks later. The 2018 Venom was a surprise smash, grossing approximately $856 million worldwide by catering to superhero audiences who wanted to see a horror-tinged film starring one of Spider-Man's primary foes. A comparable commercial haul isn't likely in the current Covid-19 reality, but Let There Be Carnage could scare up sizeable crowds.
Hardy once again plays Eddie, a San Francisco journalist whose body has been invaded by Venom (voiced by Hardy), a rude, ravenous alien parasite which is like an unhinged id continuously trying to take control of his host. While Eddie is interviewing the incarcerated serial killer Cletus Kasady (Harrelson), he/Venom is provoked into an attack, at which point Cletus bites the reporter, drawing blood. Soon, Cletus has absorbed part of Eddie's symbiote, which transforms him into the terrifying creature Carnage. He dutifully breaks out of prison and wreaks havoc across the city.
Taking the reins from Venom's Ruben Fleischer, director Serkis (Mowgli: Legend Of The Jungle) leans into the combination of silly and scary that made the first film, while baldly uneven, an intriguing change of pace from other superhero pictures. Let There Be Carnage benefits from not having to establish this world's characters, including Eddie's ex-fiancee Anne (Michelle Williams), and can focus instead on deepening the relationships and introducing better antagonists.
Harrelson has the right demented glint in his eye as Cletus, a troubled individual who pines for Frances (Harris), a woman he met in his youth who has mysterious powers. There's a casual evilness to Harrelson's performance, which is nicely complemented by Harris' far more intense charaterisation, and, once reunited, they become a comic-book Bonnie and Clyde — except in this case Clyde has the ability to morph into a beast who is even more fearsome than Venom.
Hardy's over-the-top performance in Venom leaves him a bit stranded in the sequel — how much more exaggerated can he go? — but it turns out that his vocal performance as Venom is more important this time around. For such a murderous creature, Venom is actually quite insecure and needy, and Hardy's growly delivery belies a touching vulnerability within this outwardly revolting monster. Let There Be Carnage finds some amusing ways to develop conflict between the two, putting them at odds — a story point that becomes crucial once Carnage goes hunting for the Venom-less Eddie.
To be sure, this follow-up has a tendency toward slapstick humour and cartoonish plotting, just like the original. But as our feuding heroes square off against Cletus and Frances, Serkis (working with Oscar-winning cinematographer Robert Richardson) designs some vibrant action sequences that are both visually striking and appropriately suspenseful. (Composer Marco Beltrami is especially good at crafting ominous music for Carnage's arrival into the story.)
Unlike Venom, which struggled to balance its horror and comedy elements, Let There Be Carnage seems more confident mixing tones — largely because even the scarier moments possess a giddy funhouse sensibility. Rest assured Venom and Carnage will eventually battle to the death, and Serkis knowingly recalls past classics like the original King Kong to give their big showdown an old-school matinee feel. But at the same time, he carefully threads through the narrative the notion that people (and alien symbiotes) are more powerful when they work as a team. The irony of this franchise is that Venom is traditionally Spider-Man's enemy, yet in these films he constantly encounters individuals who are the true bad guys. Eddie and Venom may not always see eye to eye, but they come to realise they're better off when they're stuck together — literally and metaphorically.
Production companies: Avi Arad Productions, Matt Tolmach Productions, Pascal Pictures
Worldwide distribution: Sony
Producers: Avi Arad, Matt Tolmach, Amy Pascal, Kelly Marcel, Tom Hardy Hutch Parker
Screenplay: Kelly Marcel, story by Tom Hardy & Kelly Marcel, based on the Marvel Comics
Production design: Oliver Scholl
Editing: Maryann Brandon, Stan Salfas
Cinematography: Robert Richardson
Music: Marco Beltrami
Main cast: Tom Hardy, Michelle Williams, Naomie Harris, Reid Scott, Stephen Graham, Peggy Lu, Woody Harrelson