An insightful snapshot of Gen Z, composed entirely of its subjects' social media videos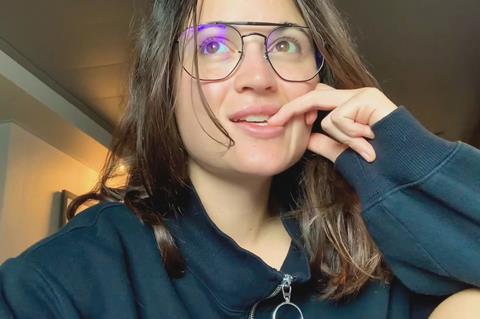 Dirs: Udi Nir, Sagi Bornstein. Germany. 2021. 87 mins.
Composed entirely of videos uploaded to social media during 2020, this deftly edited compendium of YouTube confidences and confessionals exceeds all expectations. Focussing on seven main characters, all in their early 20s, Viral not only provides an idiosyncratic global perspective on a tumultuous year, it is also an insightful snapshot of Gen Z and its relationship with social media. What happens to young people who are accustomed to documenting and sharing every aspect of their lives when the sides of the frame suddenly close in? Astute character choices and suitably brisk pacing means that this picture could connect with both attention-span-challenged younger audiences and their less-social-media-savvy older counterparts.
Compellingly watchable stuff
This is not the first time that directors Udi Nir and Sagi Bornstein have mined YouTube for material. Their 2016 feature documentary #uploading_holocaust explored the pilgrimage of thousands of young Israelis to Poland each year to learn about the Holocaust, and was, like this picture, built solely from videos on social media channels. Rather than follow characters engaging with the past, however, Viral shows history being made — the global Covid-19 pandemic, Black Lives Matter protests and the US presidential elections are all viewed through the eyes of young people taking their first steps into independent adulthood.
A period of enforced reflection on lives which have barely started leads to an interrogation of the role that social media plays in these lives. It's compellingly watchable stuff. Festivals looking for talking-point films should take note. And while the logical home for a picture like this would be a streaming release, it could prove to be an attractive proposition for specialist distributors seeking material which might engage younger audiences.
At the start of 2020, Nathaniel is about to start life in a new city. And as a successful YouTuber with 650k subscribers, he plans to document every step of the journey. Literally. We see his feet striding purposefully along the travelators in Paris Charles de Gaulle before we see anything else. By the end of the year, Nathaniel has over a million followers and provides some of the most thoughtful commentary on his own — and others' — conflicted relationships with social media.
Shakim, a motorbike vlogger from Kerala, starts the year with 400k followers and a plan to ride from India to Europe. He ends up, via Iran and a Covid isolation ward, with over two million, and is in the process of building a new family home with his social media earnings.
Jessica, a single mother from South Carolina, starts out as stripper vlogger but transitions to promoting her own makeup company through her channel. Not all of her followers are supportive of the change in direction. And Tina, a self-described "tree elf" who starts the year driving her converted mobile home across Europe, stays remarkably chipper despite having to self-isolate in a glorified transit van and encountering online haters for the first time. Both Riley and Cassandra are cruise-ship employees who find themselves stranded on board the huge empty vessels when the first Covid wave strikes. Riley, on the same boat as his girlfriend, elects to stay on board even after the lockdown lifts and enjoys a few months of luxury, but South African Cassandra is separated from her Israeli boyfriend — restrictions on global movement place an added level of pressure on a long-distance romance. And Afro-Latinx makeup blogger Justin, who decides he is too fabulous for New York City and plans to move to Miami for a year, finds himself newly politically engaged by the BLM movement.
In addition to these core characters, the film weaves together other voices and — impressively — takes its score entirely from music which is broadcast through various social media channels. The film's limber edit is a standout element: it results in a film which both makes the case that vlogging can be far more than just Gen Z navel-gazing and highlights the questionable impact that platforms such as YouTube can have on their most successful contributors.
Production company: gebrueder beetz filmproduktion
International sales: Dogwoof, sales@dogwoof.com
Producers: Christian Beetz, Udi Nir, Sagi Bornstein
Editing: Sagi Bornstein
Music: Nils Kacirek, Milan Meyer-Kaya, Lauterfisch Music