Brady Corbet takes the stage for his second film, with Natalie Portman starring in this 'intellectually-charged spectacle'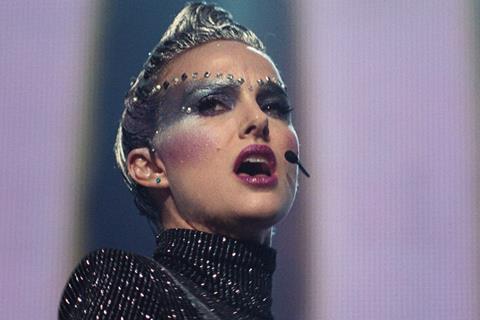 Dir. Brady Corbet. US. 2018. 112 mins.
While Lady Gaga does her best to play a rootsy singer who's nothing like Lady Gaga in A Star Is Born, Natalie Portman is altogether incendiary playing, to all intents and purposes, Lady Gaga – and Madonna, and maybe a touch of Taylor Swift – in Vox Lux.
Vox Lux is intellectually charged spectacle, with one foot in the Euro-art tradition and the other ankle-deep in the pop zeitgeist
This challenging, unapologetically cerebral cogitation on pop stardom and the post-modern malaise is the second film by actor turned writer-director Brady Corbet. Having established himself in films by Michael Haneke, Ruben Östlund, Olivier Assayas et al as the go-to American guy for European art cinema, Corbet launched himself as a cineaste in his own right with 2015's bold but somewhat solemn Jean-Paul Sartre adaptation The Childhood Of A Leader. That film had admirers but left many sceptical – yet its follow-up leaves no doubt about Corbet's audacity, imagination and intelligence.
Vox Lux is intellectually charged spectacle, with one foot in the Euro-art tradition and the other ankle-deep in the pop zeitgeist. With original songs by chart-conquering songwriter Sia and a dazzlingly witty, forceful lead from Portman, Vox Lux should sell well wherever there's an appetite for auteur innovation.
Divided into two acts and a prelude, and narrated in a (somewhat cumbersomely written) voice-over by Willem Dafoe, Vox Lux – subtitled 'A Twenty-First Century Portrait' – begins in 1999 in the US town of New Brighton. Teenager Celeste (Raffey Cassidy) is caught in a shooting attack at her school, emerging as the only survivor. While in hospital, she is taught music by her older sister Eleanor (Stacy Martin), and her artless song at a commemoration event goes on to become a sort of healing anthem for America.
This proves the first hit of a hugely successful pop career. Signing up with a short-tempered, foul-mouthed manager (Jude Law), singer Celeste and songwriter Eleanor are whisked off on a recording trip to Sweden, which turns out to be a loss-of-innocence tour for them both.
The film then jumps forward to 2017 to show Celeste (now played by Portman), as a well-established adult megastar, on the verge of returning to her hometown for a concert promoting her new album Vox Lux. But things are shaky in her world. She has drug problems and a fragile psyche, is at daggers-drawn with the increasingly sidelined and put-upon Eleanor, and has a delicate relationship with Albertine, her daughter by a long off-the-scene English rocker; in an inspired casting twist, Albertine too is played by Raffey Cassidy, as if the daughter had inherited all the traumas of her mother.
To add to Celeste's problems, a group of terrorists in Croatia has carried out a massacre wearing masks apparently inspired by one of Celeste's music videos – resulting in the increasingly addled star giving a rampantly ill-advised speech of sympathy that's really about damage limitation PR.
By the time Celeste plays her show, she has fairly comprehensively unravelled – in scenes in which Portman radiates with a vibrant spikiness, imparting icy home truths to Albertine in a speedy hard-as-nails delivery of sharply-scripted lines that suggest All About Eve's Margo Channing if she'd been a character in a Don De Lillo novel.
Lol Crawley's photography powerfully evokes the oppressive, shadow-laden enclosure within which Celeste lives both as a vulnerable teenager and as an adult in the airless prison of celebrity. Then in the final stretch, the visuals explode into intense digital fireworks as Celeste and her dancers strut their stuff in front of video screens bombarding her audience with a torrent of slogans and images. Vox Lux is one of those rare films that gets the contemporary pop world right, from its before-the-show scenes – a hint of Birdman's backstage cynicism – to Celeste's full-tilt performance. To add to the authenticity, prolific hitmaker Sia has written original songs that capture the contemporary femme-pop R&B genre to a tee.
Despite her voice sometimes sounding fragile in the mix, Portman's own singing is exactly right for the style, while her kinetic, quasi-military jerking and stomping with her troupe makes her ballet performance in Black Swan look strictly half-baked. The film's orchestral score, meanwhile, is written by legendary cult musician Scott Walker, in his second collaboration with Corbet, bringing an imposing austerity to Celeste's off-stage world.
Jennifer Ehle and a relishably boorish Jude Law excel as Celeste's music biz exploiters, or surrogate parents; Cassidy, who made such a strong impression in Yorgos Lanthimos's The Killing of a Sacred Deer, is again immensely affecting; while Martin, also in The Childhood of a Leader, make something substantial of a disappointingly under-written role, arguably the film's weak link.
Vox Lux is a film of intense ambition, dealing with heavyweight themes in a way some might find glib or contentious: its parallels between terrorism and pop stardom recall the philosophical use of glamour made by Bertrand Bonello (for whom Corbet has acted) in his controversial 2016 Nocturama. Echoes of the Bataclan killings and the 2017 Manchester bombing after an Ariana Grande concert – and the singer's subsequent response, rather more gracious than Celeste's – all seem to have informed a film that represents a real attempt to engage with the problems of an age that's at once terrifyingly superficial and terrifyingly complex in the cultural and ethical problems that it poses. Like the film or not, approve or not, Vox Lux shows that Corbet is the real thing, and the song he's singing is very much his own.
Production companies: Bold Films, Andrew Lauren Productions, Killer Films, Three Six Zero
International sales: Sierra-Affinity, joey@sierra-affinity.com
Producers: Andrew Lauren, D.J. Gugenheim, Michel Litvak, Svetlana Metkina, David Litvak, Brian Young, Gary Michael Walters, Robert Salerno, Christine Vachon, David Hinojosa
Screenplay: Brady Corbet
Cinematography: Lol Crawley
Editor: Matthew Hannam
Production design: Sam Lisenco
Music: Scott Walker, Sia
Main cast: Natalie Portman, Jude Law, Stacey Martin, Jennifer Ehle, Raffey Cassidy, Willem Dafoe