A former teen pop star attempts to relive former glories with her hapless son in tow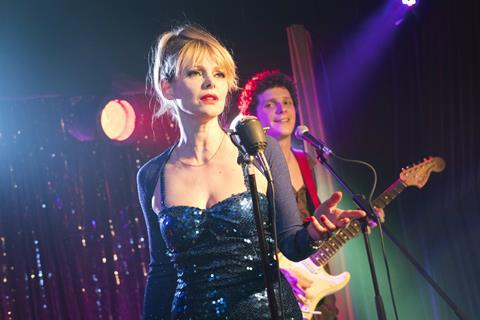 Dir. Letizia Lamartire. Italy. 2018. 92mins
Italian director Letizia Lamartire's first feature offers a novel and engaging take on a very particular aspect of errant parenthood. The customary version of the 'stage parent' is one who pushes their child into showbusiness and vicariously enjoys their success from the wings; here, exploitation comes with humiliation, when a son is reluctantly turned into a one-man backing band for his 40-something mother as she trundles out the one hit of her former, all-too-brief career. If her life is a broken record, his has no chance of getting started.
The film's appeal will partly depend on what audiences make of the music
We'll Be Young And Beautiful is a good proposition for a light drama, handsomely lensed in Ferrara, in Northern Italy, and bears fruit courtesy of a full-blooded performance by Barbora Bobul'ová as the comically monstrous mom. It arrives in Busan from Venice, where it premiered in International Critics' Week.
Bobul'ová is Isabella, whose 15 minutes of fame came as an 18-year-old purveyor of cheesy Italian pop in the 1990s. According to her frequently expressed version of her life, she then became pregnant and her career ended – though not without a fight. Lamartire smartly showcases Isabella's dated hit single, 'Tic Tac', at the outset, cutting between the young star's performance in a music video and the older woman still giving it her all to an almost empty night club in the present day. Behind her on guitar is 20-something Bruno (Alessandro Piavini), who appears not to understand just how luckless he is.
Bruno's father never having been involved, mother and son are locked together – still living together, performing together, struggling together, beholden to the manager of the club, who's offered three gigs a week for years and an apartment to boot. The pair are affectionate, co-dependent, tactile, blithely noting that everyone mistakes them for lovers, without considering how creepy that sounds.
While their situation is hardly healthy, there's a certain lightness to it, due to Isabella's gaily irresponsible behaviour (her slapdash approach to teaching piano to kids is a hoot). Crises and arguments, usually over money, are quickly papered over by hugs. But then one especially outrageous mishap by Isabella drives her son into the orbit of an indie rock band – which offers musical opportunity, friends his own age, romance and, most importantly, escape.
Lamartire and her co-writers posit a number of tensions. The fact that Isabella has issues with her own mother is hardly new. Her relationship with a fawning divorcé never rings true. And it's a pity that the oedipal rumblings, while feasible given the mad family set-up, have to be expressed on the dance floor. Much more interesting are Isabella's conflicted feelings as her son's musical career takes off.
One of the film's – and Bobul'ová's – best scenes is when Isabella sees her son playing with the band for the first time, the tiniest flicker of a smile impossible to read. Is she happy for her son, or reminded of the thrill of performing in front of an ecstatic crowd? Either way, jealousy and resentment soon take over. It's amusing when the mother is competitively banging out new tunes on her piano while her son is trying to compose his sweet lyrics upstairs; but Bobul'ova doesn't shy away from her character's ugly narcissism and manipulative mean-spiritedness.
With her backcombed hair, teenage wardrobe, defiant sexiness and bruised ego, the actress offers up a gloriously bitter mess, with the glimmer of a caring mother – and a half-decent singer – beneath. If Isabella were ever to recreate herself as a chanteuse, her career might have a fighting chance.
The film's appeal will partly depend on what audiences make of the music. Composer Matteo Buzzanca does good work across the different genres, with the youngsters' performances adding genuine vigour to proceedings. Music, though, is merely the backing track for a study in parenting a child when one's own life is stuck in the past.
Production companies: CSC Production, Rai Cinema
International sales: Rai Com, cristina.cavaliere@rai.it
Producer: Elisabetta Bruscolini
Screenplay: Marco Borromei, Letizia Lamartire, Anna Zagaglia
Production design: Laura Inglese
Editing: Fabrizio Franzini
Cinematography: Giuseppe Chessa
Music: Matteo Buzzanca
Main cast: Barbora Bobul'ová, Alessandro Piavini, Massimiliano Gallo, Federica Sabatini, Elisabetta de Vito, Ciro Scalera