Bulgarian-set realist feature about a German construction team from Valeska Griseback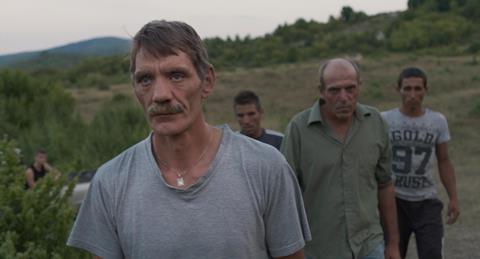 Dir: Valeska Grisebach. Germany/Bulgaria/Austria, 2017. 120 mins
Just because a film features horses, guns and the great outdoors doesn't mean that it's a Western; just because it's set in Bulgaria doesn't mean that it's not one. Western, the third feature by German director Valeska Grisebach (Be My Star, Longing) deals with certain classic oater tropes – notably, the figure of the strong, silent loner hero – in the context of cultural and economic relations in contemporary Europe. But the film's visual execution and spare narrative style give it a timeless dimension that will lend some modestly exportable clout to an approachable and appealingly laconic drama.
The fine photography gives this tense realist drama a streak of no-frills outdoor poet
The setting is a remote rural part of Bulgaria, where a German construction team under the command of bullish foreman Vincent (Reinhardt Wetrek) has been dispatched to install a water power facility on a river among wooded hills. A newcomer on the team, instantly stirring Vincent's suspicion, is Meinhard (Meinhard Neuman), a self-sufficient man of few words. He's not the most gregarious team player but certainly a solid, competent worker and an old-fashioned stand-up guy.
Drifting away from his workmates and the testosterone-charged atmosphere of their camp – over which they quickly raise a German flag – Meinhard is the first of the team curious enough to investigate the nearby village, where tobacco is the key local crop, and he bonds with the community. Borrowing a white horse grazing in the vicinity, he soon becomes a firm friend of its owner, local notable Adrian (Syuleyman Alilov Letifov), but also gets caught up as Adrian's de facto bodyguard in local tussles over quarrying rights.
The Germans become suspicious about Meinhard's readiness to mix with a foreign culture – in a nation that was once, the film pointedly notes, subject to German occupation. But Meinhard, as an ex- legionnaire who's seen action in Afghanistan and Africa, isn't easily troubled by the tensions growing up around him. Most of those tensions are fuelled by Vincent who, having crossed the line in teasing a local woman (Vyara Borisova), goes on to play fast and loose with the local water supply.
Much of the drama and the character-play emerge in the film's use of language, as Meinhard and the Bulgarians master enough of each other's tongues to communicate effectively, looks and hand gestures filling in the gaps. A Komplizen Film production, with Maren Ade amongst the producers, the film explores German presence in Eastern Europe with a curiosity and seriousness akin to Toni Erdmann's scrutiny of corporate dealings in Romania, but here looking at the theme on level of grassroots personal and community relations in an enclosed, traditional culture that is about to be transformed, somewhat aggressively, by the outsiders ("We're bringing infrastructure," insists Vincent).
Bernhard Keller's fine photography gives this tense realist drama a streak of no-frills outdoor poetry, without overstressing its genre affinities. A strong cast, grizzled non-professionals in the great neo-realist tradition, are totally convincing - notably Wetrek, a scaffolder by trade, and the always compelling Neumann, automotive industry and construction worker. His quiet intensity and cool-mannered strength make him a more than honourable EurEuro descendant of John Wayne, Gary Cooper et al
Production companies: Komplizen Film, Chouchkov Brothers, Coop99, KNM
International sales: Films Boutique, contact@filmsboutique.com
Producers: Jonas Dornbach, Janine Jackowski, Maren Ade, Valeska Grisebach, Michel Merkt
Screenplay: Valeska Grisebach
Cinematography: Bernhard Keller
Production designer: Beatrice Schultz
Editor: Bettina Böhler
Music: Stuart Staples
Main cast: Meinhard Neumann, Syuleyman Alilov Letifov, Vyara Borisova, Reinhardt Wetrek, Veneta Frangova