Up close and personal with Shahin Najafi, the German-based 'Salman Rushdie of rap'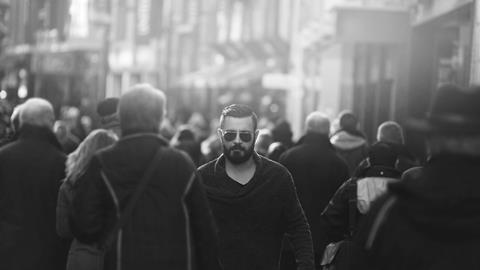 Dir/scr. Till Schauder. US/Germany. 2017. 88 min.
Controversial Iranian musician Shahin Najafi, once called the "Salman Rushdie of rap," lives in the German city of Cologne, far away from the fatwas of his Islamic homeland. Facing fines, prison-time and a hundred lashes for what was deemed blasphemous music by the Iranian right, Najafi left in 2005. But as shown in this intimate and compelling documentary, Najafi still remains very much a target in exile. In a time of rising fundamentalist attacks in Europe, from the killings at Charlie Hebdo to the Paris Bataclan concert hall, Najafi fears he could be next.
When God Sleeps becomes more a portrait of a political activist than a musician, asking familiar, but very resonant questions about the costs of resistance
With its topical story and mostly taut portrait of a complex figure, When God Sleeps should be a lock for any number of broadcast and film festival slots the world over. Touching upon such hot topics as Islam, terrorism, protest, and even the refugee crisis, the film checks off just about every newsworthy box.
German director Till Schauder (The Iran Job) makes the most of Najafi's troubled situation, ratcheting up the paranoia and pressure-cooker atmosphere. The film's first scene reveals Najafi holding a handgun for his own protection; shortly thereafter, he is seen jumping out of his friend's car for fear it has been rigged to explode. Resembling CitizenFour's Edward Snowden or City of Ghosts's citizen-journalists, Najafi is shown as a man playing with fire—and getting burned in the process. "This fear is a part of me; it's like my hand," he says.
As we get to know Najafi's sacrilegious music, anti-religious beliefs and the threats against him (in online videogames, his avatar is repeatedly shown getting shot), the film weaves in more personal details that add complexity to his story. He's in love with the granddaughter of the first Prime Minister of the Islamic Republic, and even more surprisingly, he was once a young, aspiring cleric in Iran, singing the Koran with his "holy voice."
When God Sleeps builds to a suspenseful crescendo as Najafi and his band publish a controversial new song and music video on the Internet. Called "Mammad Nobari," the video features criticisms of an authoritarian leader and images of a giant paper-mâché penis. Within days, not surprisingly, the death threats reach a fever pitch, and tensions between Najafi and his most-trusted friends and band-members begin to escalate on the eve of a four-city European tour. By performing in public, are they risking their own lives and the lives of their fans? Najafi is intent on singing truth to power, and bringing his increasingly fearful band-mates along. But as one says to him, "You're either a fool or a bully."
Ultimately, then, When God Sleeps becomes more a portrait of a political activist than a musician, asking familiar, but very resonant questions about the costs of resistance. Is Najafi willing to lose his close friends and his lover in pursuit of the cause—not to mention his own life? Some of his friends simply can't take the pressure, but Najafi persists, perhaps irrationally. In this way, the bearded rocker makes for a fascinating character. He's magnetic, like many musical performers, but he's also profoundly vulnerable with an anxious energy—his fingers often seen tapping away—that seems to express his endangered state, some kind of death wish, or simply the embattled life he's chosen to pursue.
Filmmaker Schauder keeps the documentary moving at a fast clip, with engaging verite cinematography that remarkably never gets in the way of the characters and their intimate moments. However, the story peaks too soon. After a moving and emotional performance, in which Najafi jokes with the crowd that they could all explode, followed by the collective relief that they survived, the film could have easily come to an end. What follows in the final 15 minutes—addressing Najafi's refugee status and the global backlash against immigrants (cue: Trump clip)—doesn't have the same level of high stakes. Indeed, rather than a social-issue film, When God Sleeps plays better as a stirring and up-close personal portrait of an artist willing to die for his music and his message.
Production Companies: Partner Pictures
International sales: Sara Nodjoumi, Partner Pictures
Producers: Sara Nodjoumi, Till Schauder
Executive Producers: Julie Goldman, Lisa Kleiner Chanoff, Bonni Cohen, Abigail Disney, Chris Clements, Gini Reticker
Cinematographers: Till Schauder, Gerardo Milszstein
Editor: Tina Grapenthin
Music: Max Avery Lichtenstein
Featuring: Shahin Najafi, Leili Bazargan, Günter Wallraff, Majid Kazemi, Shahryar Ahadi