Dir/scr: Feo Aladag. Germany. 2010. 119mins.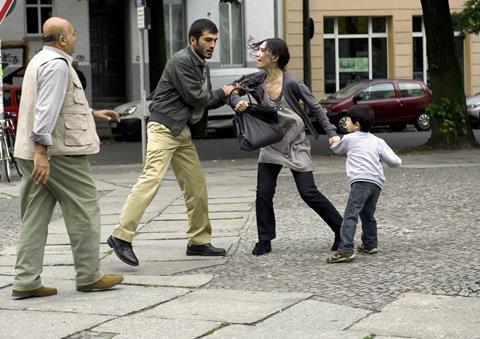 A family melodrama about Turkish communities living in the West, Feo Aladag's debut may have little to offer that hasn't been seen before, but there's still plenty in here to please liberal audiences everywhere. The story of a young woman of Turkish origins who leaves her brutal husband back in Istanbul for her parental home in Berlin, When We Leave develops along predictable lines but aims to be less one-sided or militant than usual.
Sibel Kekilli is good in the lead as a woman who will not bend and there are thoughtful performances from the supporting cast
Despite a drawn-out third act, the presence of Sibel Kekilli (Head On) in the lead could boost interest in the German market, also attracting the Turkish diaspora and audiences at home.
The plot evidently sides with Umay (Kikelli) from the get-go. Without wasting much time, Aladag depicts her packing her bags in her husband's Istanbul home and taking her five-year-old son Cem (Schiller) by the hand for a trip to Berlin and her parents' flat there. No longer willing to endure daily beatings at the hands of her spouse, she hopes to find a safe refuge at home.
Her father Kader (Tanriogen) loves his daughter but can't accept her refusal to follow tradition and demands that she return to Turkey. Her older brother Mehmet (Yigit)is willing to enforce that decision with the back of his hand, and her loving mother Halime (Alabora) still can't comprehend why a daughter of hers would rebel against a fate to which she has willingly submitted.
Umay's insistent refusal to go back to Istanbul tarnishes the name of her entire family. When her husband announces he has no use for her anymore and that he only wants his son back, she must pack her bags again and move out before her child is forcibly taken away from her.
Once again a young Western woman, Umay finds a place to live, gets a job in a restaurant and starts up a relationship with a warm, understanding man (Lukas). Her family's rejection is like a thorn in her side, however. She repeatedly tries to approach them, on one occasion even attempting to gatecrash her sister's wedding, but they are relentless in their animosity towards her. She won't give up either so they feel they have no other option but resort to a "crime of honour".
For the first half of the picture, the plot proceeds smoothly enough despite the clichés, with thoughtful performances from Tanriogen and Alabora in particular as the parents torn between love for their daughter and everything they believe to be right in the light of losing face in their own community forever. But once their attitudes harden and Umay shows herself to be equally determined, it is very clear in which direction the film is heading and the third act drags as it gets there.
Kekilli is good as a woman who will not bend. She has no problems carrying most of the film while the rest of the cast do their best to support her within the script's limitations.
To sign up for Screen's weekly Reviews Newsletter with all the week's new releases, international openings and full festival reviews delivered free to your mailbox every Friday, please click HERE
Production companies
Independent Artists Filmproduktion
International sales
Telepool
(49) 89 558760
Producers
Feo Aladag
Zuli Aladag
Cinematography
Judith Kaufmann
Production design
Silke Buhr
Editing
Andrea Mertens
Music
Max Richter
Stéphane Moucha
Main cast
Sibel Kekilli
Settar Tanrıogen
Derya Alabora
Florian Lukas
Alwara Hofels
Tamer Yigit
Almila Bagriacik
Serhad Can
Nizam Schiller
Ufuk Bayraktar
Nursel Kose