Alejandro Amenabar takes a look at Franco's Spain through the experiences of celebrated writer Miguel de Unamuno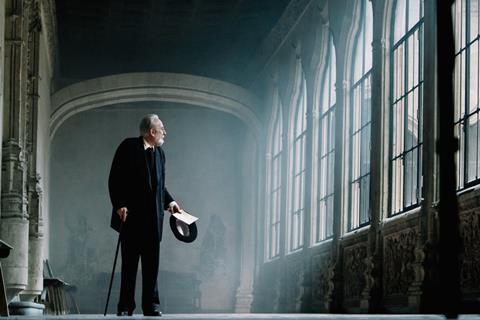 Dir. Alejandro Amenabar. Spain. 2019. 107 mins.
Alejandro Amenabar steps back to look Generalissimo Francisco Franco squarely in the eye in While At War, a rare Spanish film to confront the caudillo's rise to power face-on. This exquisitely-detailed period piece attempts to take a snapshot of Spain at a terrifyingly complicated time, and angles its lens on Franco through the story of the great Spanish man of letters, Miguel de Unamuno, dean of the University of Salamanca as Amenabar's film opens in July 1936 with the start of the Spanish Civil War.
While At War is a salutary lesson delivered in a sober, respectful manner to a country which is still coming to grips with the events it relates
While At War is a complex, steady, deeply intelligent film with a chilling resonance today, and a significant departure in tone from Amenabar's prior work (which includes The Sea Inside, The Others, and 2015's Regression). Careful and composed, it never stoops to simplification and, as such, will be a demanding watch for audiences outside the Iberian peninsula. There, it should be essential viewing after a Toronto bow and a domestic premiere in San Sebastian. As Spain – and Europe – deals with a renaissance of the same opportunistic neo-right-wing spectres, it's appropriate that Amenabar paints in this painful story patiently. As he explains in a script he co-wrote, complex circumstances give rise to dictators and "draining the swamp" only allows for the emergence of monsters from the deep.
Presented here as a fascist of convenience and religious only when it suited him, Franco cast a long shadow over Spain, way past his death in 1975, and over the fractured Pacto de Olvido, or agreement to forget, that enabled the country to move forward afterwards. This film is a tough nut to crack for those without a basic grasp of the causes of the country's Civil War, but the dark menace of Amenabar's story seeps in, much like other films to deal with that time – from Crias Cuevas to La Colmena (or, on a more fantastical level, The Orphanage or Pan's Labyrinth).
Most troubling is how Amenabar presents the story of the outspoken, iconoclastic academic Unamuno (played with conviction by Karra Elejalde) as being so convinced of his own righteousness at the outset and the country itself as being so polarised. These circumstances are clearly being repeated today. The Republic, which Unamuno had initially supported but latterly fell foul of, has collapsed. When a military Junta appears to restore "law and order" to the nation, their case initially seems reasonable to the renowned and arrogant writer. He supports the uprising against the advice of his friends and family.
Be careful of what you wish for. Down in the Spanish protectorates of Ceuta and Melia in Morocco, German forces are preparing for a trial run of World War II and Franco, only one of a band of generals at that time, is using the conflict to scheme his way to the top with the help of Millan Astray (a magnetic performance from Eduard Fernandez). From such a confluence of circumstances, one ambitious man can rise to ensure the deaths of hundreds of thousands of Spaniards and a 40-year lock on the country. It's a chilling story, as Unamuno discovers when his friends start to disappear.
Previous films have tended to circle Franco, crab-like, but While At War gives him a voice. Franco-ism, it says, had everything to do with Franco and not much to do with religion, Spain, or the rights of its citizens. Spain's mighty empire is a thing of the past, and Franco capitalises on the loss of national pride to promote himself. He only decided to relieve the Siege of Alzazar when it became clear how it may personally play out, for example. Santi Prego gives an creepily compelling, mostly internalised performance of a man whose personal ambition would set a country on fire. Mireia Rey plays his wife, Carmen, who had a part to play in Unamuno's fate.
Design – on all levels – is exquisite. Fascists are easily identified by their love of preening uniforms, and Amenabar shows us prancing military peacocks in their red sashes and swirling, fur-lined capes, sitting in wood-panelled libraries plotting their rise – or in hatching plots in the tents of Spanish Morocco, where they are assisted by swaggering Nazis. Guernica was mere months away from the time this film is set. Unamuno's home of Salamanca, meanwhile, is dominated by its University. Established in 1134 and the oldest in the Spanish speaking world, it means more than bricks and mortar, and the words of its dean carry great weight, be they mistaken or not.
Scored with dignity by Amenabar itself, While At War is a salutary lesson delivered in a sober, respectful manner to a country which is still coming to grips with the events it relates. Watching is a timely reminder of how smoothly evil can slither in to nest while the forces which might counter it are preoccupied elsewhere.
Production companies: Movistar +, MOD Producciones, Himenoptero, K&S Films, MDLG AIE
International sales: The Film Factory
Producer: Fernado Bovaira, Hugo Sigman, Domingo Corral, Alejandro Amenabar
Screenplay: Alejandro Amenabar, Alejandro Hernandez
Cinematography: Alex Catalan
Production design: Juan Pedro de Gaspar
Editing Carolina Martinez Urbina:
Music: Alejandro Amenabar
Main cast: Karra Elejalde, Eduard Fernandez, Santi Prego, Mireia Rey, Nathalie Poza