Steve McQueen delivers a heist movie with a difference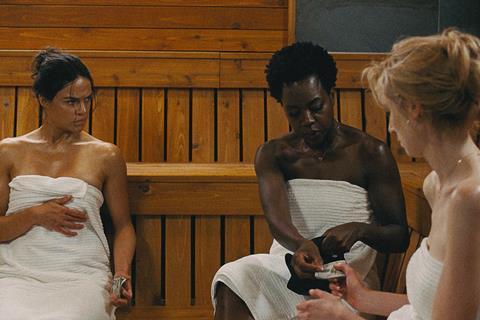 Dir. Steve McQueen. US, 2018. 131 mins.
It's interesting – almost as thrilling as the film – that Oscar winner Steve McQueen would take the career lift from 12 Years A Slave and invest it all in a knotty thriller like Widows. But to see it is to understand: he has taken the bones of a 1983 British TV series and used it to empower the multi-racial casting of a big-budget film about female empowerment of all ages. It would be subversive if it wasn't so obvious. The fact that Widows is an intelligent, entertaining drama may help pass it on: he's using his power to be an agent for change.
All the women here are strong and real, and so very capable when their backs are up against the wall
McQueen is also, clearly, using his considerable powers as a director and a dramatist to deliver a heist film which has the patience and layered air of classic 70s dramas. Oceans 8 isn't really a parallel: you can see the hand of original writer Lynda La Plante, whose first TV series this was before she went on to create Prime Suspect (Gone Girl's Gillian Flynn and McQueen adapted for the big screen). All the women here are strong and real, and so very capable when their backs are up against the wall.
Releasing through 20th Century Fox in early November, prime awards time, the only thing that can hold Widows back is the occasional episodic feel of this 131-minute adaptation, the setting moved from London to Chicago. With its elevated level of crafted film-making, it's a film for cineastes and multiplex, urban and mainstream: an interesting new four-quadrant. In a muscular lead performance, Viola Davis should certainly attract red carpet attention, forming a powerful central trio with Michelle Rodriguez and Elizabeth Debicki. In support, Daniel Kaluuya, Liam Neeson and Colin Farrell in significant roles expand the audience further, alongside Robert Duvall in an increasingly rare appearance.
The film starts with a strong statement: framed against white bedsheets, middle-aged married couple Davis and Neeson exchange a passionate kiss. Scenes from their loving marriage are juxtaposed with a heist job which quickly comes off the rails. Neeson's character, Harry Rawlings, and his gang of career criminals are all killed, making widows of Veronica (Davis), Linda (Rodriguez) and Alice (Elizabeth Debicki). None of the widows know each other.
Elsewhere in the city, crooked politician Tom Mulligan (Duvall), has been forced to resign due to ill health, prompting an election which is being contested by his jaded, equally bent son Jack (Farrell). Unusually, for a family which has held sway over Chicago's Eighth District for generations, the Mulligans have an opponent – Jamal Manning (Brian Tyree Henry). He's in it for the graft, however, and he has a vicious enforcer in his brother Jatemme (Kaluuya). Also, it's Jamal's money which has gone missing in the heist.
When Jamal approaches Veronica to warn her in no uncertain terms that he wants his money back, the grieving and penniless widow is forced to take matters into her own hands. She contacts Linda and Alice, and plans a heist herself, based on maps in Harry's old notebook. Linda has lost her quinceanera clothes shop, and the abused, lost Alice is looking at escort service websites to make ends meet (Jacki Weaver makes a brief but lasting impression as her mother). They'll be joined later by hairdresser Belle (Cynthia Erivo) as a getaway driver.
The distinguishing, and perhaps unsurprising element - given McQueen's strong characterisation in the past – is that each of the film's many characters comes fully-formed. Certainly, the women all have their stories, but so do the men – Farrell and Neeson are anchored in their swamps. Kaluuya, however – he's just mad, bad and extremely dangerous to know.
This is a clearly well-funded production, loaded with talent in front of and behind the camera. Hans Zimmer scores; Sean Bobbitt shoots; Adam Stockhausen designs around Chicago, incorporating some of McQueen's favourite motifs (window reflections and the cool domestic interiors are familiar from Shame, for example). And Steve McQueen wants to put this abundance of talent to good, changing the colour and sex and age of what we are fed as mass-market entertainment. It's a bold shot across the bows, and it will cause ripples.
Production companies: See Saw Films, New Regency, Lamas Films
Worldwide distribution: Twentieth Century Fox
Producers: Iain Canning, Emile Sherman, Steve McQueen, Arnon Milchan
Screenplay: Steve McQueen, Gillian Flynn
Production design: Adam Stockhausen
Editing: Joe Walker
Music: Hans Zimmer
Cinematography: Sean Bobbitt
Main cast: Viola Davis, Michelle Rodriguez, Elizabeth Debicki, Cynthia Erivo, Daniel Kaluuya, Jacki Weaver, Robert Duvall, Liam Neeson, Colin Farrell