Jessie Buckley impresses in Tom Harper's Glasgow-set music-based drama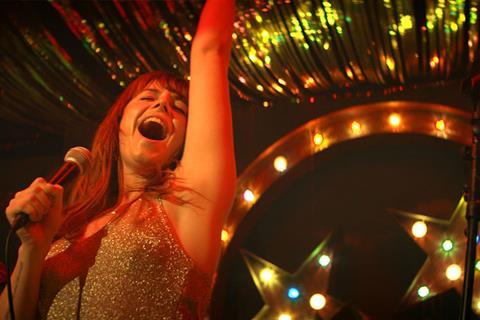 Dir. Tom Harper. UK. 2018. 101 mins
If a star was born with Jessie Buckley in Beast, then Wild Rose marks her ascendency. The Tom Harper-directed country music banger hits all the narrative beats that might be expected of a story about an ex-con from the wrong side of Glasgow who wants to make her mark in Nashville. And much will be made of former musical reality show contestant Buckley's phenomenal performances. But it's as an actor that her RADA-trained register impresses the most. Sharing some fantastic scenes with veteran Julie Walters, Buckley is front-and-centre of this film, taking her character Rose-Lynn on a journey from a childish single mother with a past to a grown-up with a future.
Tom Harper certainly knows how to get the best out of his young star
Parallels could be drawn to Sunshine On Leith as a Scottish feelgood film with a toe-tapping soundtrack, but any British-made music-based, follow-your-dream journey from Billy Elliot to Once will do. This isn't necessary a revolutionary new story: aspiring country singer Rose leaves prison still fighting the system but discovers the only person she's harming is herself. But it has all the hallmarks of a successful crowdpleaser, Glasgow-accents aside, and should play well internationally in the same way as recent antecedent Pride. Festival slots beckon and the film is currently in play for distribution.
There's a gritty social element to Wild Rose which never allows it to settle entirely in the audience's comfort zone. Rose Lynn wants to go to Nashville and succeed as a country singer, but at the same time she doesn't believe that's for people like her. Her impetuous ways have cost her dear: she was a child when she had her children but has never grown up, blaming everyone else for whatever self-sabotaging misfortune that comes her way.
Buckley plays her with a bristling, good-natured energy – Rose Lynn leaves prison after a year inside for drug offences and stops on her way home for a quick shag with an old boyfriend before facing the music with her disapproving mum (Walters), who has been looking after her two young kids in her absence. Hot-tempered, boozy Rose is an indifferent mother, and it's clear she struggles with wishing they weren't there – yet another impediment on her road to Nashville.
With her strict parole curfew and monitoring ankle tag, Rose Lynn can't get her singing job back with the Grand Ole Opry, Glasgow chapter. When she finds a cleaning job with the posh, monied Sophie Okenedo who wants to help her realise her dreams, it's pretty clear that Rose Lynn will find a way to not only hurt herself, but everyone around her.
It's the stuff country music lyrics are made of. Irish-born actress Buckley, who rose to brief fame in the UK when she was runner-up in the popular search-for-a-star reality TV show 'I'd Do Anything' with Andrew Lloyd Webber, helped to write some of the music and sings all the songs herself here. (Of particular note is the closing show-stopper 'Glasgow', written by actor Mary Steenbergen.) Having failed to win, though, Buckley took herself to drama school, graduating in 2013, and one of her first roles out of college was for director Tom Harper in TV's War & Peace. He certainly knows how to get the best out of his star.
The road to Nashville may be twisty for Rose-Lynn, but so is Buckley's career. She didn't win 'I'll Do Anything'. But if Billy Elliott, Kinky Boots, The Full Monty and Made in Dagenham can make it to the West End, so can Wild Rose. Although, on the basis of this film, she'll have gone supernova by then.
Production companies: Fable Pictures
International sales: Sierra/Affinity; US ales: CAA/UTA
Producer: Faye Ward
Screenplay: Nicole Taylor
Production design: Lucy Spink
Editing: Mark Eckersley
Cinematography: George Steel
Music supervisor: Jack Arnold
Main cast: Jessie Buckley, James Harkness, Julia Walters, Sophie Okonedo