In Rio De Janeiro, a fiery trans rights activist and sex worker tries to hold the government to account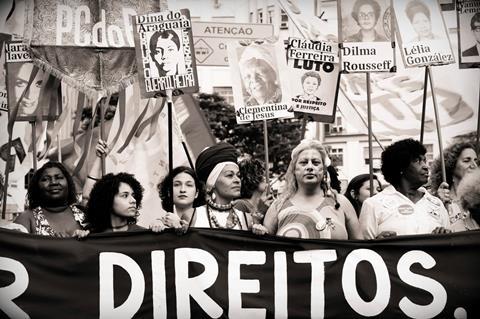 Dir. Adam Golub, USA, Brazil. 2020, 75mins
This documentary portrait might be prone to aimless drifting at times, but its subject is laser-focused. She campaigned for Rio De Janeiro's local government under the slogan "A whore for city council"; her followers marched the streets to support her with chants of "My Butthole is Secular" and her name scrawled in scarlet lipstick on their bodies. Forty-five-year-old Indianara Siqueira – transexual sex worker, trans rights activist and den mother to a squat full of waifs and strays – is a thorn in the side of mainstream Brazilian politics. Her methods are controversial – she occupies buildings, holding the very architecture to ransom; she is fond of fiery rhetoric, advocating book burning and the occasional spot of violence as a means to tackle the patriarchy. You wouldn't want her as an enemy. All of this makes her a rich subject for a documentary, but also, one suspects, a somewhat overbearing one.
Watchably chaotic, unapologetically partisan
So fascinating is Siqueira, there has already been one other recent film made about her. Indianara by Marcelo Barbosa and Aude Chevalier-Beaumel premiered in the ACID section at Cannes in 2019 and covers similar material: her political aspirations, her activism and her militant squatting of a derelict palace. But even given this fact and the film's frequent lapses of concentration, Your Mother's Comfort is watchably chaotic, unapologetically partisan, and likely to find an audience with documentary fans at LGBTQ themed events.
Director Adam Golub, who followed Indianara for four years to make this film, captures more than her 2016 city council campaign. He continues to document Indianara and her community against the backdrop of Brazil's disintegrating democracy and of the ascent of far right president Jair Bolsonaro, notable for, amongst other things, being no friend to the country's LGBTQ community.
There's a sense of unravelling of purpose, both in the film and its subject, as Indianara becomes increasingly estranged from the Socialist party (an eventuality which is covered entirely from Indianara's perspective and might have benefited from more context). Meanwhile, the squatted building, known as the Nem House, where Indianara's extended family of transgender sex workers live, is under threat of eviction. The girls sleep, stacked in three storey bunk beds and mattresses on the floor, and bicker together until Indianara arrives. Such is the magnetic pull of her personality that she is rarely alone in the frame for long before someone hugs her, cries with her, or, in one case, shows her a tattoo of Indianara's face she recently had inked.
Likewise, Golub's camera is equally in thrall to its formidable subject. It can't seem to pull away even when all Indianara is doing is lurching around the streets, beer bottle in hand, growling her displeasure on the fringes of a street protest.
A no-frills approach means that, for the most part, the film is unadorned, apart from occasional rumbles of sparse score which ominously signal the coming storm of the Bolsonaro regime. The election of the new president is the one point at which Indianara seems temporarily defeated. Having managed to get through the AIDS epidemic, oppression, and violence, she says, "I am tired of surviving. I just want to die tomorrow." But then, tomorrow is another day. And things seem a little more bearable when Indianara is reclining in a pool, cracking riotously obscene jokes with her girls.
Production company/international sales: Megamot media, Contact: Adam@megamotmedia.org
Producers: Adam Golub, Tammy Kremer
Cinematography: Adam Golub
Editing: Marina Cavalcanti