The British comedian will star in the Mass Animation, Huayi Brothers Media Corporation, Flying Tigers Entertainment and GFM Films animation that GFM is touting at the AFM.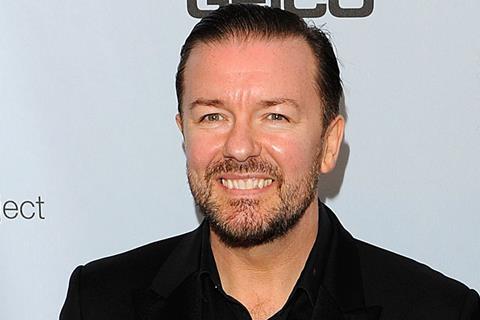 Gervais, who recently signed a deal to host his fourth Golden Globes ceremony in January, will voice the villainous Ika Chu, a cat who plans to rid the town of Kakamucho of its feline inhabitants.
Previously announced Michael Cera will voice Hank, a dog who dreams of becoming a heroic warrior and must save his community.
Other cast members on board include Samuel L Jackson, Mel Brooks, George Takei, Gabriel Iglesias, Aasif Mandvi, Djimon Hounsou, Michelle Yeoh, Sandra Tsing Loh, Mel B and Heavenly Joy Jerkins.
Rob Minkoff, Yair Landau and Susan Purcell produce. Chris Bailey and Mark Koetsier are directing from a screenplay by Ed Stone and Nate Hopper. Mel Brooks serves as executive producer alongside Reginald Hudlin and Pietro Ventani.
Open Road Films will release in the US an August 4, 2017. Sony Pictures International Releasing previously acquired several major territories and Huayi Brothers Media Corporation will distribute in Greater China.