Dir: Mika Kaurismaki. Finland. 2012. 110mins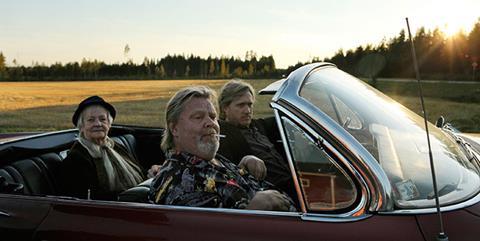 Road North, Mika Kaurismaki's latest, takes the story of drunk dead-beat dad who came to dinner after decades and transforms into a road movie. The warm sweet comedy of family reunions and revealed secrets is as mainstream as this veteran bad-boy director gets. Getting beyond the mainstream of Finland's market will be its challenge.
Mika Kaurismaki stalwarts will appreciate some trademark elements here.
A huge hit in Finland, thanks to stars Vesa-Matti Loiri and Samuli Edelmann who connected with multiple generations at the country's box office, this mass market story will play festivals but probably won't get farther than a fraction of European art houses, skipping the non-Finnish masses. Prospects in English-speaking markets are slim, and the comedy's gentleness will test the loyalty of Mika Kaurismaki fans, whose tastes might tend toward something earthier. The same wholesomeness, however, positions Road North well for television internationally.
There's plenty of charm – and sheer size – to elephantine Leo (Loiri), who returns to Finland from years away at sea. Surprising son Timo (Edelmann), a distinguished and fastidious pianist, the Finnish Falstaff drinks, smokes and steals an American car in Helsinki so the two can head north.
No surprise, the journey gets this odd couple into lots of trouble. Kaurismaki directs the action like road vaudeville, where the audience can see collisions coming, in the expectation that the crowd will revel as the stars are the butt of every joke.
Unlike road movies that speed through as social x-rays of whatever land they're in, Road North explores the territory of the family, with Timo and his half-sister venting their long –suppressed feelings of abandonment, and causing plenty of collateral damage.
Kaurismaki doesn't go much deeper than familiar psychology, preferring grand guignol to subtlety, yet Loiri, robed in one garish shirt after another, has a broad enough vocabulary of bawdy fat-man shtick to keep the laughs alive through almost two hours – which will be long for non-Finns.
The huge man may remind comedy fans of naughty fathers like Jack Warden in So Fine or Alan Arkin in Little Miss Sunshine. Loiri possesses the physical mass of Jackie Gleason or the late Chris Farley – and like them, he's adept at working it like a prop.
Veteran Samuli Edelmann (Wistrom in Mission: Impossible – Ghost Protocol) looks like a cross between Bjorn Borg and Ryan O'Neill (also in So Fine) as he plays the dutiful straight man to the elder Loiri's mischief. The supporting cast of Finnish performers makes Road North something of a homecoming, but your home probably needs to be in Finland for that family feel to make any difference.
Mika Kaurismaki stalwarts will appreciate some trademark elements here – the American car that Leo steals, the jangly surf guitar that accompanies the ride into the countryside, and the hijacking of a bandstand (and a willing band) at a hotel in the woods by Leo and Timo to get a mother and daughter at the bar into bed. Both men are also well-known singers in Finland, so music in these moments rises above mere silliness.
Cinematography by cinematographer Jari Mutikainen serves the burlesque in Road North, with a flourish or two in the serene landscape, but nothing to distract viewers from the stars in this comic aria for two.
Production company: Marianna Films Oy
International sales: The Yellow Affair
Producer : Mika Kaurismaki
Screenplay: Sami Keski-Vahala, Mika Kaurismaki
Cinematography: Jari Mutikainen
Editor: Jukka Nykanen
Production designer: Sasu Joutsi
Main cast: Vesa-Matti Loiri, Samuli Edelmann, Mari Perankoski, Irina Björklund, Peter Franzen, Elina Knihtilä