Dir: Michael Cuesta. US. 2011. 95mins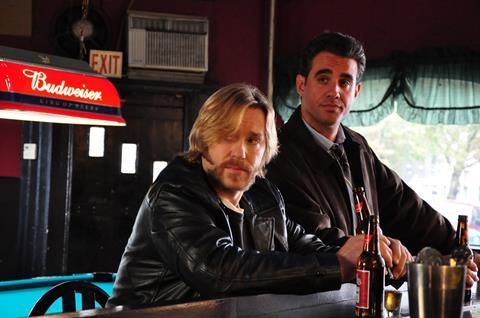 The finest acting so far this year occurs in a five-minute scene in this film about a frustrated roadie (cool music parlance for a travelling porter) for the successful art-metal band Blue Oyster Cult. After the group's manager summarily fires this kettle of rage after 25 peripatetic years - he still does not know how to make coffee - he gets besotted and coked up in the "special" unit at the Capri Motor Inn in a declining section of Forest Hills, Queens (the New York City neighbourhood that he grew up in and ran away from) that two rocker wannabe pals he hasn't seen in all that time and who stayed behind have fixed up to resemble a groovy green room.
Michael Cuesta directs with camera set-ups and an editing rhythm that capture the anomalous feel of the borough: intimate yet anonymous, dirty but squeaky clean.
Then the scene begins. Sitting in an offensively upholstered chair, Jimmy Testagross (Ron Eldard), denigrated in high school with the nickname Testicles, breaks into a sweaty and maniacal simulated concert performance for his audience of two. He is making the most of the few moments life has granted him to fulfil his greatest fantasy: being a player rather than a flunky.
This is the high point of his portrayal. But let's be clear: Eldard is brilliant from the moment the film begins, and he is rarely out of frame. A buff former Golden Gloves contender, he put on 40 pounds to play the part, but the physical transformation is more credible than the self-conscious, Method-like De Niro/Bale model. In the best of all possible worlds, he would win all of the Best Actor awards, except by industry standards, Roadie is only (condescending gesture with closed thumb and forefinger) "this big."
Eldard, Gerald Cuesta, and Michael Cuesta all hail from Queens or other parts of Long Island (Queens marks the beginning of "The Island," for many an eclectic suburban horror show), and it shows. The Cuesta brothers' screenplay is almost documentary-like in its verisimilitude to the area, the dialog spoken as if it could just as easily be heard on a city sidewalk or in the subway as in the cinema.
Michael Cuesta—a successful stills photographer by trade who did such fine work in the Long Island-set L.I.E. and Twelve And Holding, directs with camera set-ups and an editing rhythm that capture the anomalous feel of the borough: intimate yet anonymous, dirty but squeaky clean. A fantastic, well-researched rock soundtrack from the 1970s and '80s accompanies the visual tour.
Everything centres, of course, on Jimmy, still with long hair and moustache, who is undergoing a midlife crisis. He is unemployed and essentially homeless. Pretending to be someone he is not is second nature to him. He arrives at the house of his half-demented mother (Smith) by default, refusing until a series of hateful events occur late in the film to acknowledge the ties that bind (she has not changed anything in his bedroom), and that remaining in the community of your childhood isn't necessarily the worst option. In his case, being back home begins to keep his anger in check.
He lies to the pair of high-school pals: the bully Randy (Cannavale), a wealthy parvenu who inherited his dad's car dealership; the other, Jimmy's former flame, Nikki (Hennessy), the sweetest character in the movie, in the old days a poet and now, unlike her ex, a musician for real, even if smalltime.
She plays acoustic guitar and sings in the local pub for a crowd of 30 beer-guzzling clients one night a week—the evening they always hit the Capri for warm-up music and cocktails—and, to Jimmy's and our surprise, Nikki and the actor who portrays her are very good. (Hennessy sings a lovely, affecting number that she wrote, Ghost in My Head.) What shocks Jimmy, and us, even more is the fact that Beauty (Nikki) and the Beast (Randy) ended up marrying. In their world, it works.
The Cuestas refuse to impose sticky resolutions. The last sequence IS sentimental, but only superficially. And easy catharsis is undercut by a preceding scene in which the ever-so-nice Nikki shows up to apologise to Jimmy for Randy's insensitivity at the Capri ("You're a fucking shlepper, carrying other peoples' stuff like it was yours," he screams accusingly—and correctly—at the hapless poseur), which resulted in her old boyfriend's missing her concert in the back of the bar.
Yet the kind soul recorded it for him and passes him a CD. Like many New Yorkers and perhaps people everywhere, she can not resist following the thoughtful gesture with a request that, after he listens to it, could he pass it on to someone who might help her career?
Production company: Hero Content
International sales: William Morris Agency, www.wma.com; Preferred Content, kevin@preferredcontent.net
Producers: Mike Downey, Sirad Balducci
Screenplay: Gerald Cuesta, Michael Cuesta
Cinematography: Andrew Lilien
Production designer: John El Manahi
Editor: Kane Platt
Music: Chris Seefried
Website: www.roadiemovie.com
Main cast: Ron Eldard, Jill Hennessy, Bobby Cannavale, Lois Smith, David Margulies, Catherine Wolf, Suzette "Azariah" Gunn