Dir/scr: Shinobu Yaguchi. Japan. 2011. 95mins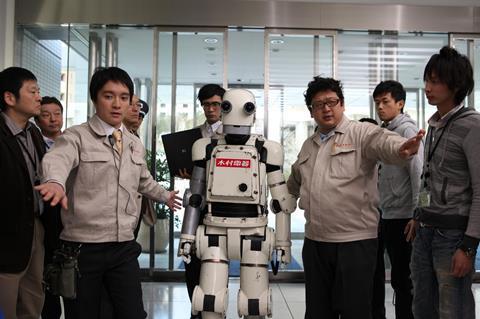 As fun and frantic bit of mainstream entertainment, writer/director Shinobu Yaguchi's high-concept family film Robo-G really hits the spot, and has strong re-make possibilities should Hollywood come calling. Given it lacks any art-house credentials it is unlikely to feature much beyond the family film festival circuit, which is a shame given its all-round commercial value.
Robo-G is constantly entertaining without ever being radical or defiantly original.
Screening in the I See It My Way section of the Hong Kong International Film Festival, Robo-G also features a standout performance by Shinjiro Igarashi (aka former Japanese rock star Mickey Curtis) as the grumpy old grandfather whose retirement days of boredom and lack of stimulation are transformed when he applies for the unlikeliest of part-time jobs.
Director Shinobu Yaguchi has a strong track record in terms of making comedy hits - such as Water Boys (2001), Swing Girls (2004) and Happy Flight (2008) - and after a gap of four years has returned with a film that might lack the simplistic mainstream fun sensibilities of those films, but is a much more rounded film in terms of its concept.
The straightforward structure is pretty familiar - after a disaster the protagonists gradually have success, learning a few life lessons along the way - but handled with a good deal of polish and lack of mawkish sentimentality.
When three workers at Kimura Electrical (played by small Gaku Hamada, tall Junya Kawashima and chunky Shogo Kawai) fail in their bid to build a robot for the company, they decide to advertise for someone to 'act' in a supposed Mascot Suit Show, and fit them into their New Shiokaze robot metal suit.
They find that 73 year-old Mr Suzuki (Igarashi) is only one who will fit the suit, but to their bemusement he proves such a hit at the 13th annual Robo Exposition that they have to keep him on for presentations around Japan. But they hadn't reckoned on the determination of robot loving science student Sasaki Yoko (Yuriko Yoshitaka, playing her role for shrill schoolgirl laughs) who gradually learns the truth about the deception.
Robo-G is constantly entertaining without ever being radical or defiantly original, with Shinjiro Igarashi perfect as the curmudgeonly old man who finds a new lease of life.
Production companies: Altamira Pictures, Dentsu, Fuji Television Network, Toho Company
International sales: Pony Canyon Inc., www.ponycanyon.co.jp
Cinematography: Katsumi Yanagijima
Editor: Ryuji Miyajima
Main cast: Shinjiro Igarashi, Yuriko Yoshitaka, Gaku Hamada, Junya Kawashima, Shogo Kawai, Emi Wakui, Tomoko Tabata