Fox's sci-fi crosses $30m barrier; Warner Bros' musical debuts fourth.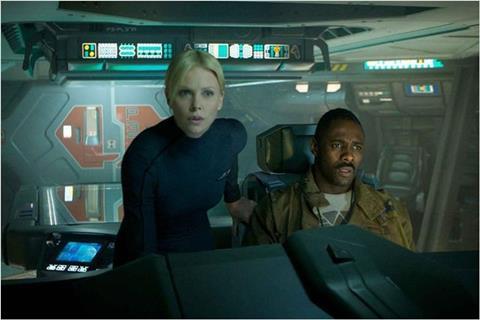 Despite box office figures taking a hit on Friday as a result of the England-Sweden match, Prometheus notched a third consecutive week at number one in the UK following a $2.97m (£1.9m) haul.
Fox's sci-fi is the fourth film this year to go three weeks at the top of the UK box office. No film has yet recorded four straight weeks at the UK's summit this year and Prometheus will have to hold off competition from Abraham Lincoln: Vampire Hunter and The Five-Year Engagement if it hopes to do so.
Ridley Scott's return to the sci-fi genre has garnered $30m (£19.2m) to date, the 14th best performance of the last 52 weeks at the UK box office and the fifth best of the year so far.
Holding firm in second was Sony's Men In Black 3 after it added $2.5m (£1.6m) in its fourth week, recording a drop of only 37%. The threequel has now amassed $28.2m (£18.0m) and, following a soft opening, is homing in on Men In Black 2's final tally of $34.9m (£22.3m) as a result of strong holdovers.
Like last week, Universal's Snow White And The Huntsman held well in third, with a 39% drop seeing it fight its way to a further $2.1m (£1.3m). The second Snow White offering of 2012 stands at $18.4m (£11.7m) after three weeks in play.
This week's highest new entry belonged to Warner Bros.' Rock Of Ages as the musical hit a flat note with an estimated $1.7m (£1.1m) debut, including previews, from its 471 sites.
That opening is around half of what director Adam Shankman's previous musical Hairspray made on its UK bow as it sung its way to $3.2m (£2.05m) from less sites (348), as it became Shankman's strongest UK performance with $20.1m (£12.8m). How much the football on Friday affected its debut will become clearer with its holdover this week.
eOne's The Pact rounded off this week's top five after a second weekend showing of $745,249 (£475,936) for $3.0m (£1.9m) to date.
Debuting in sixth was Momentum's Red Lights with a $697,000 (£445,000) opening tally from its 288 sites.
In its eighth week, Disney/Marvel's The Avengers - Marvel Avengers Assemble in the UK - lost its grip on the top five, falling to seventh and stands at $79.8m (£51.0m) to date.
StudioCanal's Olympics-themed drama Fast Girls opened with $586,000 (£374,000).
Maternal rom-com What To Expect When You're Expecting grossed an additional $386,000 (£246,000) through Lionsgate for $5.8m (£3.7m) overall.
Universal's Cannes opener Moonrise Kingdom currently stands at $2.2m (£1.4m) as it closes in on the final hauls of The Darjeeling Limited and The Life Aquatic With Steve Zissou which took $2.3m (£1.5m) and $2.5m (£1.6m) respectively.
This week sees saturation releases for Fox's Abraham Lincoln: Vampire Hunter (opens June 20), StudioCanal's Chernobyl Diaries, Universal's The Five-Year Engagement and eOne's Lay The Favorite. Kaleidoscope's Victim receives a wide release, while StudioCanal's Cloclo and Revolver's Where Do We Go Now? are among the films receiving a limited release.