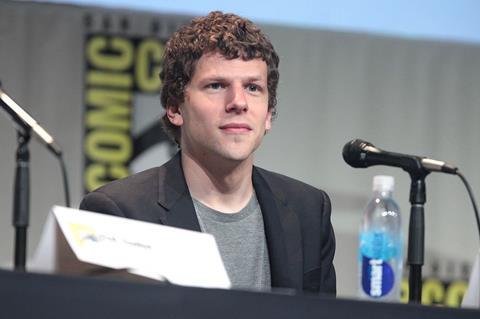 Rocket Science has secured international rights and will launch sales at AFM on Jonathan Jakubowicz's Resistance to star Jesse Eisenberg as legendary mime artist Marcel Marceau and his involvement in the French resistance during the Second World War.
CAA packaged the project for Cannes and represents US rights to the drama, which Rocket Science is co-financing with Pantaleon and producing with Epic Central and Pantaleon.
Coming off Cannes 2016 selection Hands Of Stone starring Robert De Niro and Edgar Ramirez, Jakubowicz is lining up to direct Resistance in early 2018. Claudine Jakubowicz and Carlos Garcia de Paredes, who worked on Hands Of Stone, are producers on the project, while Marceau's oldest son Baptiste Marceau serves as executive producer.
Born to a kosher butcher from Strasbourg in France, Marcel Marceau was born Marcel Mangel and grew up speaking Yiddish. He learned to mime to survive and save the lives of Jewish orphans whose parents had been killed by the Nazis. His own father was killed in Auschwitz.
Marceau's earned global fame for his stage persona Bip the Clown and referred to mime as "the art of silence". He performed professionally for more than 60 years and earned the Legion Of Honour and the National Order of Merit in France. He was friends with Michael Jackson, who credited him as the inspiration for the moonwalk. Marceau died in 2007 aged 84.
"The story of how a group of boys and girls scouts created a network that saved the lives of thousands of orphan refugees during WWII, would be worth telling even if the main character wasn't the greatest mime of all time," Jakubowicz said. "The fact that Marcel Marceau is at the centre of it, and that he saved their lives thanks to his art of silence, makes this film a dream come true for any writer and director."
"With a movie like this, and the genius of Jesse Eisenberg who seems born for the role, all you need is to find partners who care about making it with the scope and ambition that the story and the public deserve.
"I've known about Thorsten Schumacher's impeccable taste and track record for a long time and I can't think of a better company than Rocket Science to make sure this timely tale is handled correctly for a worldwide audience.
"And to count with the infrastructure of the German-based production powerhouse Pantaleon (of Pantaflix group) and producing partners Dan Maag and Philipp Klausing, completes a dream team that me and Claudine, my producer and wife, and our Hands Of Stone partner Carlos Garcia de Paredes, can only feel blessed for".
The Rocket Science sales slate includes Los Angeles crime thriller Destroyer starring Nicole Kidman that Karyn Kusama will direct. Among the other titles are: David Lowery's The Old Man And The Gun starring Robert Redford and Casey Affleck; Dominic Cooke's On Chesil Beach with Saoirse Ronan; Nick Hornby adaptation Juliet, Naked for Judd Apatow; Harmony Korine's The Beach Bum with Matthew McConaughey; Julian Schnabel's At Eternity's Gate to star Willem Dafoe as Vincent van Gogh; and Kristin Scott Thomas' directorial debut, The Sea Change.