Dir/scr: Signe Baumane. Latvia-US. 2014. 88mins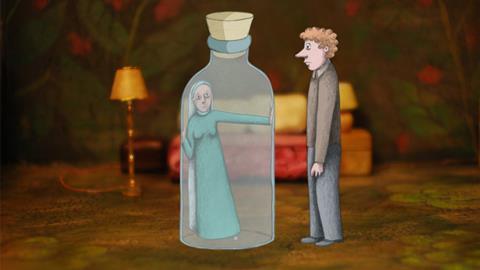 The inner demons of animator Signe Baumane are impressively self-evident in Rocks In My Pockets, her debut film that had its world premiere in competition at the Karlovy Vary Film Festival (the first animated film to compete). An enjoyable funny and complex tale of the women in her family and their battles with madness, it is a welcome contrast to modern computer-generated animation, telling and adult tale with dark humour.
Baumane's idiosyncratic voice-over style suits the freewheeling and often surreal animation style.
The film, which has a series of platform openings in the US in early September, is very much a personal journey for Latvian-born filmmaker Baumane, as she tells five rather fantastical stories of women in her family. The animation is a blend of classic hand drawn work and papier-mâché stop-motion - Jan Svankmajer and Bill Plympton have been mentioned as inspiration, and echoes of their style are clear.
In Latvia in the 1920s, Anna, a pretty and educated young woman, falls for an entrepreneur 30 years her senior, but he gets increasingly jealous of her, and he hides Anna away in the forest where she bears him eight children and attempts suicide by standing in a nearby river.
Years later, Signe (who also delivers the voice-over) asks her father how her grandmother died. She comes to realise that the women in her family have an inherited mental illness. The film is set against the backdrop of her grandmother's life and the living conditions in Latvia during the Soviet and German occupations with Baumane tracing the difficult problems the women in her family have faced over the years.
Baumane's idiosyncratic voice-over style suits the freewheeling and often surreal animation style and she manages to weave a dark and impressively off-kilter story. By its very nature suicide is a bleak subject matter, but Baumane handles her family story with humour and style. The animation will not be to everyone's taste – and the film is aimed very much at niche distributors – but the film is certainly a very individual one.
Production companies: Signe Baumane Studio, Sturgis Warner
International sales: New Europe Film Sales, jan@neweuropefilmsales.com
Producer/cinematography: Signe Baumane
Music: Signe Baumane, Wendy Cong Zhao
With: (voice) Signe Baumane