Acclaimed cinematographer Roger Deakins talks to Jeremy Kay about creating a brooding, wet atmosphere for Prisoners.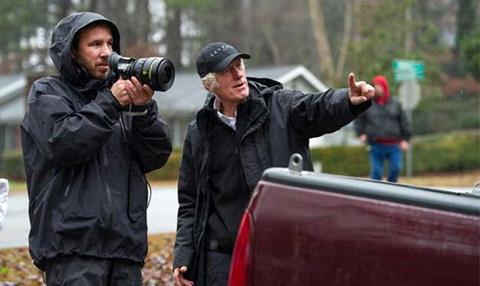 Roger Deakins relishes the challenge of extracting a story's essence from different palettes.
Whereas James Bond's twists and turns in 2012 smash Skyfall were punctuated by vivid splashes and sharp contrasts, the murky moral maze of Prisoners unravels across a more subdued canvas.
"The hardest thing was that we were shooting in Atlanta, which wasn't known for being wet," says Deakins of his assignment on Alcon Entertainment's child-abduction thriller. "We were very lucky — Atlanta had the wettest winter for many years.
"Denis [Villeneuve, director] was very insistent on that look. On Skyfall we wanted grey light when we were filming in London but we didn't get it and you're stuck with the weather you get. But on Prisoners, it was important for a film with that kind of brooding atmosphere."
Most of the action settles into a gloomy milieu that is suitably oppressive given the dark subject matter, yet Prisoners is never allowed to become uniform or uninteresting. There are visual flourishes and the widely respected cinematographer conjured up several sequences that play out like fever dreams.
In one example, Jake Gyllenhaal's Detective Loki drives desperately across town to convey precious cargo to the nearest hospital. Every burst of incandescence around the car's night-time exterior was carefully staged and the effects of weather were controlled as much as was humanly possible.
"That was really hard because we knew what we wanted," says Deakins. "It wasn't a very big budget and we searched forever to find the right streets and we only had one night and half a night outside the hospital.
"We had nozzles mounted to the front of the car to create rain on the windshield but we couldn't put rain over such a large area of that whole drive. We wet the streets down. All the snow was CG because there was no way we could create snow over such a vast area."
'It was a very sensitive film to keep on track. It could have become over the top and Gothic'

Roger Deakins, cinematographer
The vigil encounter where Loki espies a suspicious character also stands out. "[That was a] tricky scene because we had the chase through the back of the houses. We had maybe two nights to shoot and you wanted it to feel realistic.
"We used streetlights, candles and lights in the houses. We put them in every night scene… to get that feeling of Christmas lights. We had double-wick candles and some 250w halogens and dimmed them down to boost the light level so I could shoot without artificial lights. I wanted everything to feel as if it was coming from the candles."
Villeneuve has described working with Deakins as like returning to film school and said their time together on Prisoners was "the most beautiful cinematic experience of my life".
For his part the British cinematographer enjoyed the process and had been looking forward to it for some time. "[Denis] is such a lovely man. We had a great time. He was nominated for the Oscar for Incendies and I was asked to introduce Denis, whom I didn't know, but I'd seen the film and was glad to do it.
"We really got on and I really liked the film [Incendies] and asked my agent to see what he was going to do and if he was going to do a film in the US. When we heard he was going to do Prisoners, I put my name forward and that was it."
The overall result pleased Deakins. "In general for a film like that it isn't an individual scene that sticks out for me. It's about keeping control of the picture from start to finish and that includes effects.
"Everything has to fit together, otherwise the audience is too easily taken out of a story like that. It was a very sensitive film to keep on track. It could have become over the top and Gothic."
At 64, the veteran has been nominated for 10 Oscars and is renowned throughout the industry as the best cinematographer to not yet win an Academy Award. But he will not get in a lather about that or the current season.
Speaking from Australia, where at time of writing he was shooting Angelina Jolie's wartime survival story Unbroken, Deakins says he is happy Prisoners has found its audience and critical acclaim. "Let's hope there are more like it."