Dir: Ken Loach. UK-Fr. 2010. 109mins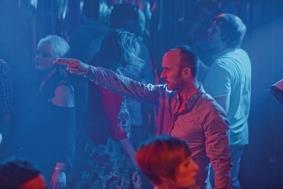 Ken Loach's last minute addition to Cannes competition is a hard-edged thriller - his first, in fact, since Hidden Agenda played competition here in 1990 - covering dirty deeds by contractors in Iraq. Surprisingly conventional in its plotting but distinguished by an intriguing moral complexity, Route Irish could be Loach's most commercially accessible film to date and is no less gripping or damning of the conflict than Paul Greengrass' Green Zone - although made at a fraction of the budget and mostly set in Liverpool.
Its exploration of the human price of warmongering and financial opportunism is necessary and vital.
Shot by sometime Loach collaborator Chris Menges in gritty grey hues, the film looks like a Loach film but the story of stolen cellphones, corporate cover-ups and renegade revenge wouldn't be out of place in a Hollywood action thriller. The filmmaker isn't entirely comfortable with the genre and at times, with its low-intensity George Fenton score, it feels like an episode of a British TV series.
But the director's choice of the thriller genre is ultimately a smart one. Essentially painting a portrait of men scarred by exposure to the kill-them-before-they-kill-you life of Bagdad, the film packs more of a punch in its characterisation of collateral damage than pious human dramas like In The Valley Of Elah, Stop-Loss or The Messenger.
Womack, an established UK TV actor, tackles his first feature role well. His character Fergus is a ticking time bomb of rage, violence, shame, sorrow and self-loathing who lives in Liverpool after several years in Iraq, first as a member of the SAS and more recently for a private security firm where he was making £10,000 a month.
The film opens in 2007 as he heads across the Mersey in a ferry to the funeral of his best friend Frankie whom he had persuaded to come to Iraq with him. Frankie has died in an attack on his vehicle on Route Irish, the road from the Green Zone to the airport in Bagdad that is dubbed the most dangerous road in the world. The funeral is attended by executives of the firm he worked for - Haynes (Fortune) and Walker (Bell) - as well as by Marisol (Najwa Nimri), a Spanish woman friend who hands Fergus a package she had received from Frankie in the post.
The package contains an Iraqi mobile phone which contains video footage of one of Haynes' security vehicles massacring a taxi full of locals and two children bystanders and Frankie's horror at the killing.
Unable to go to Baghdad because he is awaiting a UK court case for brawling, Fergus contacts some old friends in Iraq to help him uncover the truth behind Frankie's death.
Meanwhile he shows the footage to Frankie's widow Rachel (Lowe) to whom he has always been attracted; Fergus opens up to her and the two make love.
But both of their lives are put in danger when one of Haynes' heavies Nelson (Trevor Williams) returns from Iraq to retrieve the phone. Both their houses are ransacked and the Iraqi musician (Rasool) who has been helping them interpret the phone messages is beaten in a military-style raid on his house. Determined to stop Nelson and take his revenge, Fergus takes the law into his own hands.
What sets the film apart from your run of the mill thriller is the deterioration of Fergus into violence and his realisation that he is a monster like all the others. The film's most disturbing scene - in which he practices the torture technique of waterboarding on Nelson - shows a man deranged and numb to killing, anything but a conventional hero. Loach and his regular screenwriter Paul Laverty keep a strong moral compass when it comes to the condemnation of an Iraq awash with US and UK money but Fergus himself is far less black-and-white.
Loach uses extensive flashbacks to Iraq (shot in Jordan) and archive footage to illustrate the experiences that have hardened Fergus beyond redemption. If the script is guilty of heavy-handed preachiness at times, its exploration of the human price of warmongering and financial opportunism is necessary and vital.
Production companies: Sixteen Films, Why Not Productions
International sales: Wild Bunch, www.wildbunch.biz
Executive producers: Pascal Caucheteux, Vincent Maraval
Producer: Rebecca O'Brien
Screenplay: Paul Laverty
Cinematography: Chris Menges
Production designer: Fergus Clegg
Editor: Jonathan Morris
Music: George Fenton
Main cast: Mark Womack, Andrea Lowe, John Bishop, Geoff Bell, Jack Fortune