Dir: Brad Furman. US. 2013. 91mins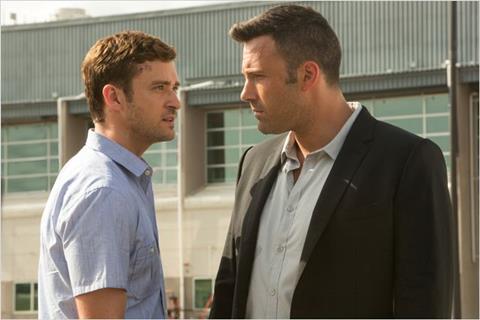 Doing what it can with a mediocre hand, the crime thriller Runner Runner is a tepid, familiar tale of an ambitious up-and-comer lured into the world of a rich, charismatic online casino magnate who, unsurprisingly, is hiding dark secrets. Burdened with plenty of gambling-as-a-metaphor-for-life platitudes and two leads who never fully convince in their roles, the latest from director Brad Furman (The Lincoln Lawyer) mostly clings to its genre conventions and so-so stylishness.
From the outset, Runner Runner seems slightly preposterous, and nothing that follows ever corrects this core problem.
Beginning its rollout on September 25 — it arrives in the UK on September 27 and the US on October 4 — Runner Runner will gain some traction thanks to the presence of stars Justin Timberlake, Ben Affleck and Gemma Arterton. But modest reviews and a less-than-scintillating premise will keep the movie from breaking out theatrically, although it could prove to be a sturdy holdover if adult audiences decide to give it a shot over subsequent weeks. Still, Runner Runner will probably be a better bet on DVD and cable.
Written by Brian Koppelman and David Levien, who previously provided the screenplay for the poker drama Rounders, Runner Runner follows the misadventures of Richie (Timberlake), a Princeton grad student who pays his tuition through commissions he earns directing his fellow students to online gambling sites. But after the Princeton dean threatens to expel him because of his gambling associations, Richie is in desperate need of money, and so he tries to win at online poker, a game he knows well because of his cards-obsessed father (John Heard).
Richie quickly goes bust at the online casino, but his defeat convinces him that the game system cheated him, prompting him to travel to Costa Rica to confront Ivan Block (Affleck), the man who owns the site. Though initially sceptical, Ivan realises that the kid's right — one of his programmers had rigged some of the games so that players couldn't win — and he apologises by bringing the sharp, confident Richie under his wing, making him a confidant in his vast gambling empire.
Furman's The Lincoln Lawyer was an enjoyable courtroom thriller that had a strong sense of character and milieu. Unfortunately, Runner Runner lacks those qualities, failing to make Costa Rica (a land where a shady businessman like Ivan can operate) vibrant or his greedy protagonists memorable. (Mauro Fiore's cinematography at least gives the locales a little noir-ish atmosphere.)
From the outset, Runner Runner seems slightly preposterous, and nothing that follows ever corrects this core problem. While it's possible that Richie could deduce precisely how Ivan's gambling site was cheating him, his ability to fly to Costa Rica and insinuate himself instantly into the world of a rich, powerful and potentially dangerous man never seems credible. (We suspect almost immediately that Ivan must have an ulterior motive for befriending this complete stranger — a notion that the supposedly street-savvy Richie never considers.)
Showing some signs of the darker characters he played in Boiler Room and State Of Play, Affleck labours to make Ivan an aloof, casually callous man who presides over his Costa Rican empire like a blasé king. It's not a shock that Ivan's fortune is somewhat ill-gotten, but it's disappointing that Affleck decides to play the character as a nonchalant villain: The actor doesn't have the concealed ferocity to hint at Ivan's sinister core.
Likewise, Timberlake, who revealed a delightfully smarmy side in The Social Network, fails to possess the bulletproof confidence that his character requires. For the movie to work, Richie's hunger for success needs to be established early on — he was a Wall Street player before his career collapsed — and his ability to charm others to get what he wants should be readily apparent. But Timberlake's self-conscious boyishness never cuts deep enough, dooming Richie to seem like a babe in the woods who's unequipped to go up against Ivan's treachery or the cynical machinations of a cocky FBI agent (Anthony Mackie) who wants to bag Ivan and doesn't care if that means bringing down Richie as well.
But just as the characters fail to crackle — Arterton's love interest (and possible femme fatale) is comparably dull — Runner Runner's story operates under the assumption that audiences aren't used to movies in which impressionable social climbers learn the hard way that there's no such thing as easy riches. Runner Runner doesn't attempt to be an elaborate puzzle movie akin to David Mamet's work, but instead Furman and his writers deliver a shockingly straightforward cautionary tale. Even more irritating, the storytelling is punctuated by appearances from Richie's hard-boiled voiceover, which often draws strained comparisons between taking risks in life and being bold at cards or at the craps table. No dice.
Production companies: Regency Enterprises, New Regency, Appian Way, Double Feature Films
US distribution: 20th Century Fox, www.foxmovies.com
Producers: Arnon Milchan, Jennifer Davisson Killoran, Leonardo DiCaprio, Michael Shamberg, Stacey Sher, Brian Koppelman, David Levien
Executive producers: Erik Holmberg, Brad Weston
Screenplay: Brian Koppelman & David Levien
Cinematography: Mauro Fiore
Production design: Charisse Cardenas
Editor: Jeff McEvoy
Music: Christophe Beck
Website: www.runnerrunnermovie.com
Main Cast: Justin Timberlake, Gemma Arterton, Anthony Mackie, Ben Affleck, Michael Esper, John Heard, Ben Schwartz