Dir: Jacques Audiard. France-Belgium. 2011. 123mins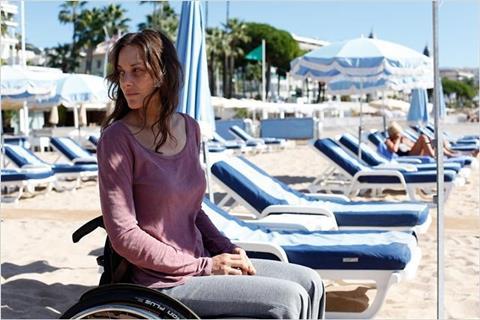 Packing arthouse style and widescreen emotional heft, Jacques Audiard's follow-up to A Prophet pairs Marion Cotillard and Matthias Schoenaerts (last seen in Bullhead) in a tough, sexy and sometimes harrowing odd-couple love story that breezes confidently past a couple of slightly forced plot twists. Audiard's films are always character driven, but in his last two outings the best characters have all been men. In Rust And Bone however, which is based loosely on a short story collection by Canadian writer Craig Davidson, he gives hot-property Cotillard the chance to shine alongside her robust co-star in a female role of impressive depth.
It's refreshing here to see a film that presents, at least for a stretch, the opposite of the 'you can do it!' Hollywood inspirational healing process.
But this is a director's film as well as an actor's vehicle, in which soundscapes and soundtrack often drown dialogue; and if, deep down, the script has the bone-structure of a melodrama, this pedigree (or lack of it) is well hidden by an original eye for detail, some impressionistic camerawork and editing, and a world-class lesson in narrative minimalism.
Opening in France on the same day it premiered in Cannes, Rust And Bone has the potential to at least equal Audiard's two previous films, both of which easily passed the million-admissions mark on home turf. It is likely to do well internationally too. Perhaps it lacks the genre crossover potential of A Prophet; but Rust And Bone is a big film in every sense, sure-footed, stylish and confident, that mainlines emotion into its audience.
Not much interested in its characters' backstories, the film opens engagingly with what appears to be the end of a different story. Penniless Ali (Schoenaerts) and his five-year-old son Sam (Verdure) are leaving behind some trauma, heading south across France to an unnamed Cote d'Azur seaside town, where Ali's supermarket cashier sister Anna (Masiero) lives with her lorry-driving husband in a run-down apartment. Leaving his sister to look after a son that he seems to consider a burden, muscular Ali gets a job as a nightclub bouncer – and it's here, while breaking up a fight, that he meets Stephanie (Cotillard). There's a spark, though neither particularly likes the other; he sees her as just another depressed rich girl looking for a bit of rough, while she has man-hating and self-hating issues, finding solace only in her day job – training killer whales and putting on shows at a local aqua park.
It's a mark of the script's rapid-fire bravura that it manages to roll the presentation of Stephanie's job and the accident that changes everything for her into a single big-dipper scene, which comes too early on to be a spoiler. A shift of perspective at the crucial moment means we never really get to see what happened – did one of her whale charges sink its teeth into her? – but the upshot is that Stephanie wakes up in the hospital with both her legs gone. (They're cut off and sewn up just below the knee – with some impressive CGI work saving Cotillard from making the supreme sacrifice in preparing for her role).
It's refreshing here to see a film that presents, at least for a stretch, the opposite of the 'you can do it!' Hollywood inspirational healing process: Stephanie doesn't want to do it, isn't interested in physio, and is still sunk into a depression when Ali comes to see her in her disabled-access apartment. She called him, not the other way round – and she finds his indifference to her and her legless state both disturbing and oddly liberating (it's a role reversal that even generates some humour when the two fall, much later, into an awkward sexual relationship).
The healing does come eventually; but the script keeps its foot firmly on the anti-schmaltz brake, first by stressing what a useless and occasionally violent father Ali is (he's one of those unthinking father-kids that the Dardenne brothers have also explored), and second by revealing gradually the real damage that he does to the two women (Stephanie and Anna) who let him enter their lives for more than the space of a quick sexual grapple.
Increasingly assured in his deployment of sound and vision, Audiard shifts the point of view ably between characters, backing up the script's own hints that we would do well not to invest too much sympathy in Ali, even if (like Stephanie) we find ourselves rapt by his insouciance and the ease with which he inhabits his fighter's body. A scene in which Stephanie returns to the aquarium to commune with one of her whales and 'conduct' it with arm movements has a haunting power – not just because, like the deer scene in A Prophet, it puts our human troubles in perspective, but because this is a film about control – of one's life, one's partner, one's son – and the limits of control. The soundtrack, which mixes now sombre, now more uplifting orchestral work by Alexandre Desplat with rock songs and ballads, washes over the dialogue on several occasions, nodding perhaps at Ali's moral and emotional deafness but also, perhaps, the need to delve beneath the surface.
Production companies: Page 114, Why Not Productions
Co-production: France 2 Cinema, Les Films du Fleuve, Lunanime
International sales: Celluloid Dreams, www.celluloid-dreams.com
Executive producer: Martine Cassinelli
Screenplay: Jacques Audiard, Thomas Bidegain, based on the short story collection Rust and Bone by Craig Davidson
Cinematography: Stephane Fontaine
Editor: Juliette Welfling
Production designer: Michel Barthelemy
Music: Alexandre Desplat
Main cast: Marion Cotillard, Matthias Schoenaerts, Armand Verdure, Celine Sallette, Corinne Masiero, Bouli Lanners, Jean-Michel Correia