Projects selected from across South America and Europe.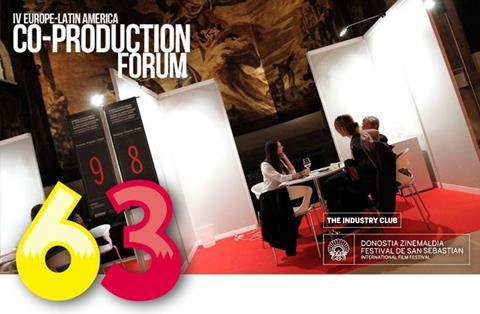 Scroll down for full list of projects
San Sebastian's Europe-Latin America Co-production Forum (Sept 21-23) has revealed the 15 projects selected from 173 submissions.
The majority of titles, spanning 17 countries, have yet to be seen at international co-production gatherings
Furthermore, in the framework of the Festival's collaboration with the Ibermedia Programme, one project, selected at the Workshop to develop film projects from Central America and the Caribbean, will participate in the Co-production Forum, not in competition - Patricia Ramos's El sueco.
The final selection includes projects by established directors such as Nicolás Rincón and Israel Adrián Caetano alongside emerging filmmakers such as including Larissa Figueiredo and Théo Court.
Projects presented at previous editions of the Forum have been selected for a major festivals including Carlos Moreno's Que Viva la Música!, which played at Sundance in January; David Pablos's Las Elegidas, which screened in the Un Certain Regard strand of Cannes in May; and César Augusto Acevedo's Land and Shade (La Tierra y la Sombra), which played at Cannes' Critics' Week and won the Caméra d'Or.
The EGEDA Award for Best Project at the Europe-Latin America Co-production Forum 2015 will be announced at the Forum closing gala, on Sept 23. The award comes with $11,000 (€10,000).
SELECTED PROJECTS
1. Agontimé
Director: Larissa Figueiredo
Production Company: Tu i Tam Filmes
Brazil
2. Bajo este sol tremendo
Director: Israel Adrián Caetano
Production Company: Rizoma SRL
Argentina - Uruguay
3. Blanco en blanco
Director: Theo Court
Production Company: El Viaje Films
Spain - Chile
4. Clara Sola
Director: Náthalie Alvarez
Production Company: Hob AB
Sweden - Colombia - Denmark
5. Contactado
Director: Marité Ugás
Production Company: Sudaca Films
Venezuela - Peru - Colombia
6. El auge del hyumano
Director: Eduardo Williams
Production Company: Ruda Cine
Argentina - Portugal
7. El motoarrebatador
Director: Agustín Toscano
Production Company: Rizoma SRL
Argentina
8. Kiken
Director: Carlos Ameglio
Production Company: Salado
Uruguay
9. La omisión
Director: Sebastián Schjaer
Production Company: Trapecio Cine
Argentina - Germany
10. Lanza internacional
Director: Víctor Cubillos
Production Company: CasaVera Films LTDA
Chile - Germany
11. Los años rotos
Director: Gerardo Tort
Production company: Arte Mecánica
Mexico
12. Memorias del calabozo
Director: Álvaro Brechner
Production Company: Tornasol Films, S.A.
Spain - Uruguay
13. Oliverio y la piscina
Director: Arcadi Palerm
Production Company: Catatonia Cine
Country: Mexico
14. Ronnie Monroy ama a todas
Director: Josué Méndez
Production Company: Chullachaki Cine
Peru
15. Tantas almas
Director: Nicolás Rincón
Production Company: Medio de Contención Producciones
Colombia - Belgium
Ibermedia project (Not a competitor for the award)
16. El sueco
Director: Patricia Ramos
Production Company: Mar & Cielo CS.A.
Nicaragua - Brazil - Chile - Cuba