Spanish-language titles from Pablo Agüero, Asier Altuna, Cesc Gay among line-up.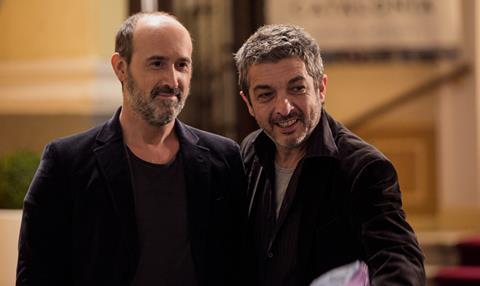 Scroll down for line-up
The San Sebastian Film Festival (Sept 18 – 26) this morning announced an array of Spanish-language titles set to compete at the festival, including new films from Pablo Agüero, Asier Altuna, Cesc Gay, Marc Recha, Federico Veiroj and Agustí Villaronga, all of which will play in Official Competition.
Gay's Truman, starring Ricardo Darin and Javier Cámara, revolves around the relationship between two friends - accompanied by a faithful dog - who share an intense few days, while Marc Recha's latest Un Dia Perfecte Per Volar, starring his son Roc and Sergi López, charts the story of a boy trying to fly a kite made by his father.
Aguero's drama Eva No Duerme explores political turmoil in Argentina through the life of an expert in charge of embalming iconic politician Evita Peron.
As anonunced this morning in Madrid, Imanol Uribe's Lejos Del Mar, starring Elena Anaya and Eduard Fernández, and Pere Joan Ventura's documentary No Estamos Solos will show at the festival as special screenings while Álex de la Iglesia's ensemble comedy Mi Gran Noche will screen out of competition.
The New Directors section will host two co-productions with Spain: Paula, directed by Argentina's Eugenio Canevari, and Pikadero, Scotsman Ben Sharrock's feature which shot in the Basque Country.
Another two co-productions will be presented in the Horizontes Latinos section: El Botón De Nácar, the latest film from the Chilean filmmaker Patricio Guzmán, and Magallanes, the directorial debut of Peruvian actor Salvador del Solar.
Guzmán's latest documentary, about water, the cosmos and humanity, begins with the discovery of two mysterious buttons in the depths of the Pacific Ocean, off the coast of Chile.
San Sebatian's Zabaltegi section includes Isla Bonita by Fernando Colomo, La Novia by Paula Ortiz, Un Día Vi 10.000 Elefantes, by Alex Guimerà and Juan Pajares, Mi Querida España by Mercedes Moncada, and The Propaganda Game, by Álvaro Longoria. The short film by Tucker Dávila Wood Duellum will also be presented in this section.
Assorted press and industry in Madrid also heard that the giant screen in the Anoeta Velodrome will host a special screening of the film by Dani de la Torre, El Desconocido.
Additional festival titles will be announced at a later date.
OFFICIAL SELECTION
In Competition
Amama (Amama: When A Tree Falls) dir. Asier Altuna (Spain)
El Apóstata (The Apostate) dir. Federico Veiroj (Spain/Uruguay/France)
Un Dia Perfecte Per Volar dir. Marc Recha (Spain)
Eva No Duerme dir. Pablo Agüero (Argentina/France/Spain)
El Rey De La Habana (The King of Havana) dir. Agustí Villaronga (Spain/Dominican Rep.)
Truman dir. Cesc Gay (Spain/Argentina)
Out Of Competition
Mi Gran Noche dir. Alex De La Iglesia (Spain)
Special Screenings
Lejos Del Mar (Far From The Sea) dir. Imanol Uribe (Spain)
No Estamos Solos dir. Pere Joan Ventura (Spain)
New Directors
Paula dir. Eugenio Canevari (Argentina/Spain)
Pikadero dir. Ben Sharrock (Spain/UK)
Horizontes Latinos
El Botón De Nácar (The Pearl Button) dir. Patricio Guzmán (Chile/Spain/France)
Magallanes dir. Salvador Del Solar (Peru/Argentina/Colombia/Spain)
Zabaltegi
un Dia Vi 10,000 Elefantes (One Day I Saw 10,000 Elephants) dir. Alex Guimerá, Juan Pajares
Isla Bonita dir. Fernando Colomo (Spain)
Mi Querida España dir. Mercedes Moncada (Spain)
La Novia (The Bride) dir. Paula Ortiz (Spain/Turkey/Germany)
The Propaganda Game dir. Álvaro Longoria (Spain)
Duellum dir. Tucket Dávila Wood (Spain)
Velodrome
El Desconocido (Retribution) dir. Dani De La Torre (Spain)