San Sebastian has announced that Buena Vista/Disney's The Boy In The Striped Pyjamas will be presented as an international premiere in official selection at this year's festival.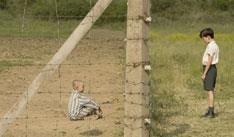 Directed by Mark Herman (Brassed Off, Little Voice), and based on the novel by John Boyne, both of whom wrote the script, the film tells the story of a friendship between two boys living on either side of a fence at a concentration camp during the second world war. One, living with his wealthy family in an isolated area just outside the camp, the other, a prisoner in striped pyjamas.
The film was produced by David Heyman (producer of the Harry Potter films) and stars David Thewlis, Vera Farmiga, Rupert Friend and Asa Buterfield. The novel on which the film is based has sold more than 3m copies already and been translated into 30 languages.
The crew from The Striped Pyjamas will be attending the San Sebastian festival, following the film's premiere in London and Dublin.