Dir: Oliver Stone. US. 2012. 130mins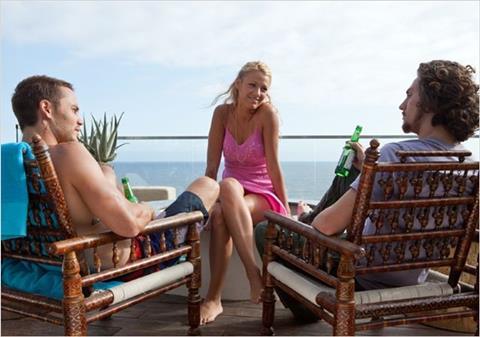 A respite from his more recent socio-political filmography and an unapologetically bawdy blast of violence, backstabbing and revenge, Savages represents Oliver Stone's most streamlined and overtly commercial movie in more than a decade. It also feels less than the sum of its parts. A super-stylish but overlong drug-running kidnap drama that skates by on colourful but sometimes thin characterisations, the film evinces no great point beyond the mode of its telling. How disqualifying that damnation is rests in the eye of the beholder.
Del Toro steals the movie, bringing a quicksilver eccentricity to Lado, who is mostly a psychotic menace but also, in part, a sensitive and emotionally malleable creature of opportunism.
As a genre piece that doesn't skimp on the brutality in an effort to play nice, Savages should satisfy a certain cross-section of crime drama fans hungry for R-rated fare, and connect in robust fashion internationally, but it's hard to envision it outpunching its tentpole summer box office competition. The notable cast and array of engaging performances, though, will ensure considerable ancillary market pop.
Savages opens in the idyllic community of Laguna Beach, California, and puts forward college graduate Ben (Aaron Johnson) as a sort of Buddhist, bearded Bill Gates of marijuana — an innovative and charitable-minded pot grower who jaunts off to Africa to work on irrigation projects in his spare time and, as voiceover tells us, aims to "take 99% of the violence and paranoia out of the business." Scarred (both emotionally and literally) ex-Navy SEAL and Afghanistan veteran Chon (Taylor Kitsch) is Ben's best friend and enforcer. Together they've grown a nice little pot empire based on their superior product, and they live with and romantically share Ophelia (Blake Lively), a damaged but dosed Orange County rich girl.
Change arrives in the form of a Mexican cartel looking to strike a forced partnership on not-too-friendly terms. While the merciless queen of the cartel, Elena (Salma Hayek), watches from afar via remote video link, her lawyer Alex (Demián Bichir) makes Ben and Chon a financial offer. They at first refuse, and then try to simply give their empire away, to no avail. When Elena's brutal enforcer Lado (Benicio Del Toro) kidnaps Ophelia, Ben and Chon set out to get her back.
By and large eschewing any sort of sociological dissection of the illegal drug problem that Traffic delved into, Savages instead tracks more closely with familial-infused tales of plotted vengeance and retribution, like The Town, Contraband and Columbiana. Many of the details feel authentic, but the movie is saddled with a ponderous voiceover that marks it as caught between two worlds, and indeed mediums; it aches for grander artistic statement when everything about its story is tawdry B-movie.
The script, co-written by Stone and Shane Salerno with novelist Don Winslow, upon whose book the film is based, doesn't invest enough in Ben and Chon's relationship to really qualify the movie as a study of fractious fraternalism on par with Lethal Weapon. Savages instead spends its time parcelling out details of Ben and Chon's attempted flight and subsequent strike back at the cartel, but even here there exists a curious emotional remove since the pair have a small unit of Chon's ex-Army snipers to dutifully help carry out their wishes.
The film's redemption lies in its evocative telling, and acting. Dan Mindel's gorgeous, sun-dipped cinematography alternates between gritty fever dream and beguiling travelogue, with Lively in particular captured in worshipful strokes. With saturated overlays and other visual flourishes, Stone seems to have employed some of the panache of films like U-Turn and even Natural Born Killers in more toned down and smoothly integrated fashion.
In films like The Town and The Private Lives of Pippa Lee, Lively has done some underappreciated heavy dramatic lifting. Here she's pretty and more often than not suitably distressed, but done no favours by a misguided narration track. Johnson and Kitsch, though, each stake out credible leading man turf.
Most notable might be a pair of the supporting turns. As Ben and Chon's squirrelly DEA contact, John Travolta gives a tack-sharp performance shot through with desperate self-preservation.
Del Toro, meanwhile, steals the movie, bringing a quicksilver eccentricity to Lado, who is mostly a psychotic menace but also, in part, a sensitive and emotionally malleable creature of opportunism. Del Toro exudes a dark, magnetic charm, pumping rich, intense depth into his character's untold backstory.
Production companies: Relativity Media, Moritz Borman Productions
Domestic distribution: Universal Pictures
Producers: Moritz Borman, Eric Kopeloff
Executive producers: Fernando Sulichin, Shane Salerno, Todd Arnow
Associate producer: Evan Bates
Screenplay: Shane Salerno & Don Winslow & Oliver Stone, based on the novel by Dan Winslow
Cinematography: Dan Mindel
Editors: Joe Hutshing, Stuart Levy, Alex Marquez
Production designer: Tomas Voth
Music: Adam Peters
Website: www.SavagesFilm.com
Main cast: Aaron Johnson, Taylor Kitsch, Blake Lively, Benicio Del Toro, Salma Hayek, John Travolta, Demián Bichir, Emile Hirsch, Joaquin Cosio, Sandra Echeverria, Diego Cataño