Scream 4 was the best of five top-ten openings in the UK, taking £2.1m from 408 screens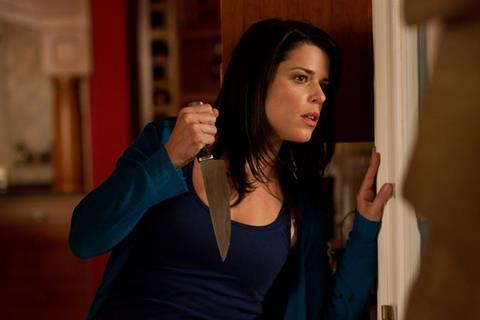 Entertainment's thriller Scream 4 opened top in the UK, making £2.1m from 408 screens at a strong average of £5,054.
The opening was the third-best in the popular slasher franchise, behind the £2.5m taken by Scream 2 and the £2.4m scored by Scream 3 and marks a solid comeback for a franchise whose last instalment came out over a decade ago.
Wes Craven returns to direct David Arquette, Courteney Cox and Neve Campbell, whose franchise stalwart Sidney Prescott is once again terrorized by Ghostface when she returns to Woodsboro as a successful author.
Fox's second-placed animation-comedy Rio climbed an impressive 12% in its second week, taking a further £1.7m from 531 screens for a cumulative of £5.5m. The film scored the week's second-best screen average of £3,194.
In a busy week of openings, eOne's adventure-comedy Your Highness entered the chart in third position, grossing £926,338 from 388 screens and Warner Bros.' thriller Red Riding Hood debuted a place below on £842,398 on 403 screens.
The UK box office saw signs of decent depth again with the top seven films grossing over £500,000, but with so many new openings falling over a school holiday weekend, once again, the UK results weren't spectacular.
Indeed, there was a significant drop between Limitless in seventh and eighth-placed debut Winnie The Pooh, which bombed for Disney taking only £159,369 from 421 screens at a dismal average of £379. Disney has not fared well in recent weeks, with last week's major disappointment Mars Needs Mums dropping 80% in its second week to 27th on the chart, bringing in only £22,956 at a paltry screen average of £153.
The week's only other top 20 opener was Lionsgate's French comedy-drama Little White Lies which entered the chart in tenth, making £125,273 at a decent average of £2,160 across its 56 screens, while Warner Bros' ninth-placed Sucker Punch, Revolver's sixteenth-placed Anuvahood and Optimum's 20th-placed A Turtle's Tale all crossed the £2m mark.
Anuvahood is Revolver's first film to gross over £2m. Speaking of the film's success, CEO Justin Marciano said: "It's great to know that audiences have continued to enjoy Anuvahood right across the country. Crossing the £2 million box office mark is a new milestone for both us and [producers] Gunslinger."
In a quieter week of openings, this weekend sees saturation releases for Paramount's fantasy-romance Beastly, Universal's Fast Five and Universal's Arthur. CinemaNX's TT3D gets a wide release.