Who were the actors, directors and writers who stepped into the spotlight in 2009?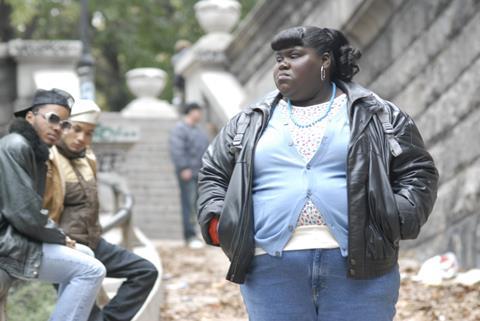 Gabourey 'Gabby' Sidibe, actress
The 24-year old newcomer Gabourey 'Gabby' Sidibe made one of the most talked about debuts in years as an abused Harlem teenager in Lee Daniels' Precious: Based On The Novel Push by Sapphire, which premiered at Sundance. Sidibe has already picked up National Board Of Review and Satellite awards as well as an Independent Spirit nomination for best actress. Next stop the Oscars…
Havana Marking, producer/director
UK film-maker Havana Marking picked up the directing prize and the audience award in the Sundance world documentary section for her acclaimed debut feature documentary Afghan Star about Afghanistan's equivalent of Pop Idol. The London- based director/producer, who spent 10 years in TV production, is now working on new documentary ideas in the US.
Giuseppe Capotondi, director
Nominated for the Golden Lion and winner of the young cinema award for best Italian film at the Venice film festival this year for The Double Hour, Italian director Giuseppe Capotondi not only created a buzz for being a first time director but also for bringing a thriller – an underused genre in Italy – to the competition. Capotondi's lead, Ksenia Rappoport, picked up the best actress for her performance as a young Slovenian chambermaid in Italy who believes that she can see her boyfriend's ghost.
Eran Creevy, writer/director
The success of Shifty, the debut film from this UK filmmaker is even more impressive given that he made it in 18 days on a budget of $163,000 (£100,000). The film received warm reviews in the UK, with particular notice paid to its charismatic lead, Riz Ahmed. Shifty, about 24-hours in the life of a London drug dealer, also won the best screenplay award at the recent Stockholm International Film Festival.
Nader T Homayoun, director
Iranian director Nader T Homayoun made a splash at Venice where he picked up the Critics Week audience award for his debut feature Tehroun (gutter slang for Tehran) set in the underworld of the Iranian capital. The Paris- based director left no stone unturned to get the right shots, taking to the streets to film taboo subjects such as prostitution and child trafficking.
Katie Jarvis, actress
UK newcomer Katie Jarvis wowed the critics with her performance in Andrea Arnold's Cannes Jury Prize winner Fish Tank. The 18-year old, who had no previous acting experience, was discovered while having an argument with her boyfriend at a train station. Her portrayal of a teenage girl living on a council estate whose life is disrupted when her mother takes a boyfriend, secured her the "most promising newcomer" award at the British Independent Film Awards as well as a European Film Awards nomination.
Tahar Ramin, actor
The 28-year old French actor Tahar Ramin appears in almost every frame of Jacques Audiard's Cannes jury prize winner A Prophet as a young French Arab struggling with life in a tough prison. Ramin's much- talked about performance earned him a European Film Academy best actor award in Germany. Next up is a role in Kevin Macdonald's Roman epic Eagle Of The Ninth for Focus.
Cary Fukanaga, writer/director
US director Cary Fukunaga made a strong impression with his debut feature Sin Nombre, a Spanish-language thriller set in a world of gang brotherhoods in Mexico, for which he picked up the US directing award at Sundance. He went on to win the best directorial debut and FIPRESCI awards at Stockholm, and has secured a best director nomination at the upcoming Independent Spirit Awards. Fukanaga has signed on to direct Ruby Films and BBC Films adaptation of Jane Eyre starring Michael Fassbender and Mia Wassikowska which is in pre production.
Scandar Copti, Yaron Shani, writer/directors
Palenstinian film-maker Copti and Israeli film-maker Shani's joint debut feature Ajami, about a crime-infested neighbourhood in the Israeli city of Jaffa, picked up a special mention from the Camera d'Or jury in Cannes. The awards keep coming with prizes at Jerusalem, Valencia, London, Montpellier, AFI Fest and, most recently, Thessaloniki where it was named best film. The dynamic film-making duo, who met at the Tel Aviv International Student Film Festival in 2002, now hope to be heading for Los Angeles if Ajami snags a best foreign-language film nomination at the Oscars.
Samantha Morton, writer/director
UK actress Samantha Morton made a successful transition into directing with her debut The Unloved, a semi-autobiographical drama about a young girl physically abused by her father, and taken from her parents. The Unloved screened in competition at the recent Thessaloniki International Film Festival and won a nomination in the Douglas Hickox category for debut directing at the British Independent Film Awards. Morton's future as a director looks promising.
Carey Mulligan, actress
Carey Mulligan has been gaining rave reviews for her performance as a schoolgirl who embarks on an affair with an older man in Lone Scherfig's 1960s- set drama An Education. The UK actress has already picked up a string of accolades this year and is the hot favourite for the big one at the BAFTAs. With comparisons to Audrey Hepburn, Mulligan is a serious Oscar contender. She will next be seen in Mark Romanek's Never Let Me Go.
Tom Ford, director
US fashion designer Tom Ford hit the ground running with his debut feature, A Single Man, which made its world premiere in competition at the Venice film festival. His lead actor was Colin Firth who delivered what many critics have described as a career-best performance putting him – and the film – in contention for serious end-of-year awards recognition. Firth also won the festival's best actor prize. Ford also wrote the screenplay for this adaptation of the 1964 novel by Christopher Isherwood about a gay British college professor in Los Angeles coping with the death of his partner.
Duncan Jones, writer/director
Duncan Jones, UK director and son of David Bowie, is the talk of the British film industry after his debut feature Moon picked up the best film award at the Edinburgh International Film Festival and the British Independent Film Awards. An indie sci- fi thriller starring Sam Rockwell, Moon is now a hot favourite for the BAFTAs. Meanwhile, Jones has already been snapped up by Hollywood – he is currently shooting his second feature, the sci-fi thriller Source Code with Jake Gyllenhaal.
Kamen Kalev, director
Bulgarian director Kalev is being tipped for great things after he picked up the best director award at the Tokyo International Film Festival in October for his debut feature Eastern Plays. Premiering in the Cannes Directors Fortnight, Eastern Plays is a drama about a young man struggling to find himself after years as a drug addict. Kalev dedicated the film to its lead actor, Christo Christov, who died in an accident a few days after shooting ended.
Peter Strickland, writer/director
British ex-pat director Peter Strickland's much-liked feature debut Katalin Varga, which he wrote, directed and produced on a budget of less than $44,000 ( € 30,000) made its world premiere in competition at Berlin in February. The film-maker swapped the UK for Transylvania for this rural revenge tragedy, shot entirely in Hungarian - despite the fact Strickland barely spoke the language.
Warwick Thornton, writer/director
Australian film-maker Warwick Thornton's debut feature, Samson & Delilah, was the stand-out world premiere at the Adelaide Film Festival and went on to pick up the Camera d'Or award at Cannes where it screened in the Un Certain Regard Section. The teenage love story also swept the board at the Australian Film Institute awards in Melbourne, taking the best film and the members' choice awards, as well as best direction, best original screeenplay and best cinematography.Thornton based the film in an Aboriginal community in Central Australia where he himself grew up.