Dir: Nawaf Al-Janahi. UAE. 2011. 98mins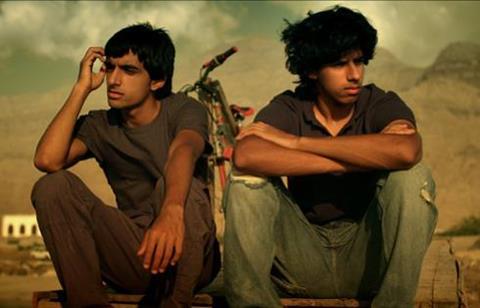 A gentle and delightfully shot coming-of-age story of two young people in a small Emirati coastal town having to overcome the deep-rooted values of their families and tradition, Sea Shadow (Dhil Al Bahr) might lack real drama, but it makes up for it in terms of charming performances and deep-rooted sense of honesty.
Drama comes in such modest forms, and Sea Shadow never focuses on any major traumas.
A low-key and subtle follow-up to his 2009 debut film The Circle, director Nawaf Al-Janahi's film develops at a gentle and simple pace as it traces Mansoor (Omar Al Mulla) and Kaltham (Neven Madi), two teenagers trapped by culture, but gently struggling against what is expected of them.
Shot in Ras Al Khaimah, the film is the first feature made by ImageNation Abu Dhabi to be made in the UAE by an Emirati filmmaker. The film had its world premiere at the Abu Dhabi Film Festival.
Teenagers Mansoor and Kaltham lead a low-key life, frustrated by family expectations and hardship, but also respectful of long-held traditions. Mansoor is close to Kaltham, but doesn't really know how to express his feeling. He is encouraged by his friend Sultan (Abrar Al Hamad), who convinces to use all his money to buy a gift.
Distraction come in the form of sophisticated Owaish (Mariam Hussein), whose family Mansoor delivers iced delicacies to, while Kaltham's brother Jasim (Hassan Bani Hammad), who lives in Dubai, arrives home, concerned about his sister. He is distraught to find out his father's barber has shown too much interest in her, and she is almost suicidal with the shame.
Drama comes in such modest forms, and Sea Shadow never focuses on any major traumas, instead choosing to simply focus on how small issues can have major implications when coming up against deep-rooted values and the realisation that these young people have to slowly find a way to forge their own identities.
Production company: Imagenation Abu Dhabi
International sales: Fortissimo Films
Producers: Rami Yasin, Daniela Tully
Executive producer: Stefan Brunner
Screenplay: Mohamad Hassan Ahmad
Cinematography: Paulo Ares
Editor: Tony Ruthnam, Raul Skopecz
Music: Ibrahim Al Amiri
Main cast: Omar Al Mulla, Neven Madi, Arbar Al Hamad, Khadeeja Al Taie, Aisha Abdulrahman, Ahmad Iraj