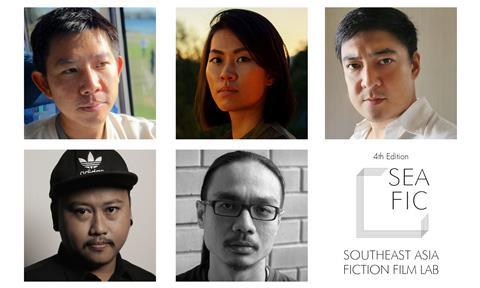 The Southeast Asia Fiction Film Lab (SEAFIC) has announced the five projects that will participate in its fourth edition, including projects produced by Cannes Palme d'Or winner Apichatpong Weerasethakul and Singapore's Fran Borgia (A Land Imagined).
The five projects, which come from Indonesia, Philippines, Singapore, Thailand and for the first time Malaysia, broach subject matter including sexual assault, illegal immigration and violent insurgency.
Among the selection is the first narrative film from Thailand's Sompot Chidgasornpongse, whose documentary Railway Sleepers screened in Busan and Berlinale Forum; the first feature from Singapore's Siyou Tan, whose short Hello Ahma screened at Toronto and Berlin; and the second film from the Philippines' Zurich Chan, whose short Boca premiered in Clermont-Ferrand.
The line-up also includes the first feature from Indonesia's Eden Junjung, whose shorts competed in Busan International Short Film Festival and Singapore; and the debut feature of award-winning short filmmaker Chia Chee Sum from Malaysia (see below for more details).
The five projects will be automatically enrolled in the SEAFICxPAS programme, a producer's lab organised by Nantes Festival des 3 Continents' Produire au Sud initiative that will be held alongside SEAFIC.
SEAFIC's first lab session is scheduled for March 8-15 at Monoceros Resort in Chiang Mai, Thailand.
SEAFIC 4th EDITION SELECTED PROJECTS:
9 Temples To Heaven (Thailand)
Dir: Sompot Chidgasornpongse, Prods: Kissada Kamyoung, Apichatpong Weerasethakul.
Synopsis: A family of nine takes their grandmother on a merit-making trip to nine temples in one day, hoping to prolong her life.
Amoeba (Singapore)
Dir: Siyou Tan, Prods: Fran Borgia, Judith Tong.
Synopsis: In 90s Singapore, teenage misfit Choo wreaks havoc in her all-girls' school with her free-spirited girl gang while secretly navigating her budding attraction to one of her friends.
Cangrejos (Philippines)
Dir: Zurich Chan, Prod: Gale Osorio.
Synopsis: Villagers turn against each other as their idyllic island home falls into hard times due to insurgent activity in the area.
Mayday (Indonesia)
Dir: Eden Junjung, Prods: Siska Raharja, Yulia Evina Bhara.
Synopsis: A new female worker in an Indonesian bra factory keeps a secret from her frustrated, jobless husband – that she has been sexually harassed at work.
Oasis Of Now (Malaysia)
Dir: Chia Chee Sum, Prod: Lee Yve Vonn.
Synopsis: A Vietnamese door-to-door apartment housekeeper lives in pretence as a local in Kuala Lumpur, where she secretly visits her daughter adopted by a local family.