Dir Gabriele Muccino. US. 2008. 118 mins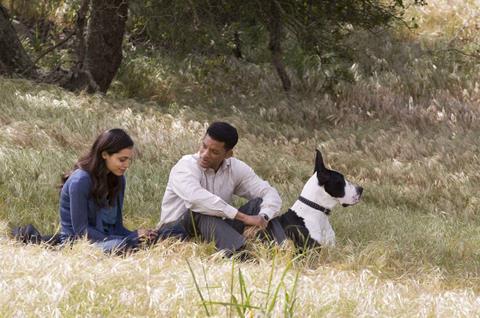 In The Pursuit of Happyness, Will Smith and Gabriele Muccino mixed sentimentality with just enough realistic family drama to produce an entertaining pre-Christmas package which appealed to a surprisingly broad audience over the 2006 holiday season. In Seven Pounds, the star and director reunite to add tear-jerking romance and some M Night Shayamalan-style plot twists to the seasonable (though not specifically Christmassy) warmth and fuzziness. The result this time, though, is a slow, improbable and very mawkish drama that seems likely to please a smaller segment of the holiday audience.
Smith's appeal is hard to undermine and his presence keeps the film watchable if nothing else
Smith's ability to open even a mediocre movie has been amply proven over the past few years, of course, so worldwide distributor Sony can probably still count on a big take from the PG-13 film's North American debut on December 19 (six days before the launch of this Christmas's other big romantic drama, The Curious Case of Benjamin Button).
And after the opening, the story's theme of saintly altruism might strike a chord with fans of do-gooding TV fare such as the Oprah Winfrey Show - whose host has already given the film her influential seal of approval — and transatlantic reality hit The Secret Millionaire.
But in the long run Seven Pounds should skew considerably more female than Smith's action outings and comedies, limiting the eventual domestic tally and perhaps pointing to only a middling - by Smith's standards - performance in the international marketplace (where major territory openings are set mostly for January and February).
Scripted by sitcom writer Grant Nieporte (Sabrina the Teenage Witch), the film starts as it means go on by giving only vague clues about the background of Smith's Ben Thomas. Tortured by memories of a once happy home life and a brutal car accident, Ben appears to be a glum Internal Revenue Service agent - a tax collector - who identifies people saddled with big back-tax bills and, like some kind of governmental Santa Claus, gives those he deems worthy a break. His beautiful ocean-side house and unconventional manner are among the hints that all may not be as it seems.
Over its meandering first half the film follows Ben as he encounters new 'cases' including a blind piano player (portrayed by Woody Harrelson), a battered mother and the administrator of an old people's home. Most are treated with kindly consideration and relieved of their tax burden; one gets a dose of Ben's righteous anger.
The mystery surrounding Ben and his motives is intriguing at first but comes to seem more gimmicky and annoying as the story goes on. As does Ben himself, who splits his time between gazing soulfully at his beneficiaries from afar and turning up unannounced on their doorsteps with a suspiciously charming smile.
After Ben meets Emily (Rosario Dawson), a pretty young woman with a potentially fatal heart condition, the story begins to turn more towards conventional romance. Tellingly, this is the film's most successful segment, largely because Emily's strengthening feelings for Ben and the deepening of their relationship provide the story with the kind of genuine emotion that's missing elsewhere.
The big revelation about Ben - a surprise Sony will have to hope reviewers do not reveal - comes late in the action and lacks the dramatic force delivered by, for example, the ending of Shyamalan's The Sixth Sense. And it leads into a scene that is almost comic when it should be tragic.
Muccino - who before directing Pursuit was known only for Italian-language projects such as The Last Kiss - tells the story with a certain elegance and produces a couple of nicely intense moments during Ben and Emily's romantic scenes. He's helped by good production design work from J Michael Riva (Iron Man).
What Muccino doesn't supply, however, is any variation in pace or tone. The film feels uniformly sluggish, at times even morbid, and the emotional ups and downs of Pursuit are completely absent.
Smith's appeal is hard to undermine, though, and his presence keeps the film watchable if nothing else. As he did in summer smash Hancock, the actor-producer takes a few chances with his image here: in early scenes he comes across as alternately charming and creepy. Later, charm and creepiness give way to a rather tedious saintliness. He gets no real chance to be genuinely funny and what's left is a cuteness that will only work for a portion of his growing fan base.
In the film's only other substantial performance, Dawson makes the most of a limited role, making Emily a bit more than the dying love interest she might have been.
To sign up for Screen's weekly Reviews Newsletter with all the week's new releases, international openings and full festival reviews delivered free to your mailbox every Friday, please click HERE
Production companies
Columbia Pictures
Relativity Media
Overbrook Entertainment
Escape Artists
US distribution
Columbia Pictures
International distribution
Sony Pictures Releasing International
Producers
Todd Black
James Lassiter
Jason Blumenthal
Steve Tisch
Will Smith
Screenplay
Grant Nieporte
Cinematographer
Philippe Le Sourd
Production design
J Michael Riva
Main cast
Will Smith
Rosario Dawson
Michael Ealy
Barry Pepper
Woody Harrelson