France's reputation as an expensive place to shoot for both local and international film-makers may be about to change with significant enhancements to the country's tax credits.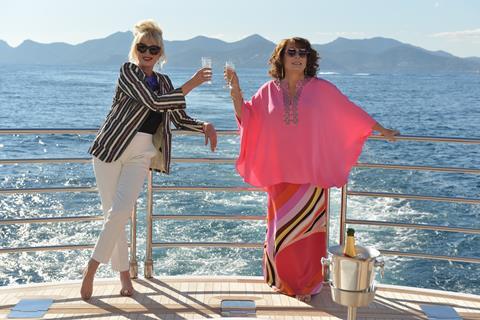 When Mark Hubbard, UK co-producer of Absolutely Fabulous: The Movie, discovered the big-screen adaptation of the BBC TV show was to reunite Jennifer Saunders and Joanna Lumley in the south of France, he was less than enthusiastic about their choice of location. Like many seasoned international producers, Hubbard admires the standard of France's crews and services but is less enamoured of their cost.
"My very first conversation went along the lines of, 'Ooh, France is quite expensive, everybody, are we sure about this location?'" he recalls.
Saunders, who wrote the screenplay for Absolutely Fabulous: The Movie, was not to be swayed, and Hubbard and the other producers decided a stand-in location such as the Croatian coast would not work. "It was specifically set in the south of France and it didn't make sense to cheat. It was costly but we got a lot out of shooting in situ," says Hubbard.
Anecdotes such as Hubbard's are commonplace in international production circles, but France's reputation as an expensive place to shoot could be set to end this year with the introduction of enhanced tax credits for local and international productions.
As of January 1, the Tax Rebate for International Production (TRIP), for both film and quality TV fiction series, has risen to 30% from 20% of eligible expenses, with the cap per project lifted to $32.5m (£30m) from $21.7m (£20m).
"We expect to welcome more foreign productions than ever thanks to the increase in the TRIP combined with the quality of our crew and services," says Nicolas Traube, president of Paris-based Film France.
International gateway
The state-backed body acts as the first port of call for international productions wishing to shoot in the country and also co-ordinates TRIP alongside the National Cinema Centre (CNC).
Film France's CEO Valérie Lépine-Karnik says there are already signs international productions are feeling encouraged to shoot in France thanks to the improved TRIP rather than looking elsewhere for locations that can double up as the territory. She cites the example of Neil Jordan's big-budget 10-episode Riviera — produced by London-based company Archery Pictures — which will film in its entirety in the south of France early this year, having originally considered other cheaper locations.
Further international productions attracted by the increased incentive include Bollywood blockbuster director Aditya Chopra's romantic comedy Befikre, produced by Yash Raj Films, which will shoot in Paris in early 2016.
An even bigger game-changer for the production scene in France, however, could be that the tax credit for local productions has also been increased in a bid to stem the flow of French productions heading to cheaper territories such as Belgium, Hungary and Poland. Nearly 60% of higher budget French productions shot abroad in 2015.
Under the improvements, which also came into force on January 1, all French-language films now qualify for a 30% tax credit, compared to 20% previously.
In a further change, local non-French language productions with a strong special-effects element have been given the same status as feature-length animation films, so these too can qualify for the 30% credit. The modification was rushed through at the end of 2015, after EuropaCorp founder and local hero Luc Besson threatened to take his ambitious English-language sci-fi extravaganza Valérian to Hungary when the existing rules made it ineligible for TRIP and local incentives.
The producers of Paris-based Roman Polanski's long-planned project about the Dreyfus affair are also understood to be reconsidering plans to shoot the English-language film in Poland in favour of France, where the story took place.
French producer Marc Missonnier of Paris-based Fidélité, who has taken numerous French productions abroad, says the changes are a move in the right direction.
"France remains expensive, mainly due to the high social charges," he says. "But the quality of the crews and services, combined with the new measures, should help reverse the trend of recent years and bring back local and foreign productions."
For Olivier-René Veillon, CEO of Ile de France Film Commission, covering Paris and its outer areas, the improved credits come at a perfect time.
"The 30% tax credit combined with the fall of the euro against the dollar makes the Ile de la France region a lot less expensive than a year ago. It makes it a very financially competitive destination," suggests Veillon.
Beyond increasing production, he hopes the measures will also boost the country's burgeoning post-production and special-effects industries. "The 30% credit makes us comparable with London," he claims. "We've been at a certain disadvantage vis-a-vis London up until now, but this is no longer the case."