Dir/scr/cine: Robert Rodriguez. US. 2009. 89 mins.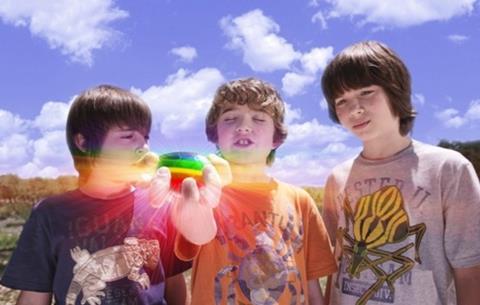 A colourful, noisy, slapstick romp along the lines of his imaginative Spy Kids franchise, Robert Rodriguez's Shorts robustly embodies an age-old principle familiar to most parents: that a certain slice of adolescent entertainment is primarily about an all-out assault on the senses. Featuring a shuffled-up series of stories built around the havoc created by a magical wishing rock, Shorts connects best when taken as a live-action cartoon, an exercise in childlike wish fulfillment.
Although Shorts doesn't have much narrative appeal for older viewers, neither does it attempt to pander to parents with coded jokes.
With his Spy Kids films, Rodriguez translated his indie cachet into commercial lucre (the trilogy grossed $465 million worldwide). Lacking the intriguing hook of that series, Shorts is more in line with Rodriguez's other family film, 2005's The Adventures of Sharkboy and Lavagirl in 3-D, and should pull in solid family audiences for a couple of weeks until school resumes. Home video replay value may well be strong, allowing children to freeze-frame their favorite silly segments.
Shorts unfolds in a suburban community, Black Falls, where all the adults (including married couple Jon Cryer and Leslie Mann, plus germaphobic single dad William H. Macy) work for Mr. Black (James Spader), a humourless mogul whose all-in-one techno-gadget is sweeping the nation. Phone, vacuum, shredder, toaster, baby monitor and nose hair groomer - there's virtually nothing Black's shape-shifting knick-knack won't do.
Black's children, Helvetica (Jolie Vanier) and older brother Cole (Devon Gearhart), make school miserable for Toby Thompson (Jimmy Bennett), even though Helvetica's acting out masks her thinly-disguised affection for Toby, who also wears braces on his teeth. When Toby comes across a multi-coloured wishing rock and asks for friends, tiny aliens appear.
Other story strands centre around Toby's workaholic parents (Cryer and Mann), and three rambunctious brothers who create a castle and crocodile-filled moat to guard the rock, but quickly come to realise that its powers may be too great for them. There's also a brother-sister staring contest which opens the movie, and then pops up in the background at various moments. Things finally come to a head when Black realises the power of the wishing rock, and how he could use it to consolidate his power and wealth.
As with his other films, all shot in his native Texas, Rodriguez is involved in all aspects of the piece: taking great delight in whipping up a mix of energetic production design, operating the camera and overseeing special effects work. Nothing about his work here is particularly subtle, from the clanging sound effects and whip-pan camerawork to the wild, whimsical nature of the film (crocodiles walking upright, giant wasps and dung beetles).
That said, Shorts generally works precisely because it unfolds at breakneck pace and in a world where seemingly anything can happen. That sense of careening possibility thrills a young audience, as will the movie's giant, rampaging Booger Monster.
Although Shorts doesn't have much narrative appeal for older viewers, neither does it attempt to pander to parents with coded jokes. While some of the recurring gags wear out their welcome along the way, most of Shorts is harmless fun, at least until a somewhat exasperating finale, where the magical rock is dropped and picked up indiscriminately by at least half a dozen characters.
To sign up for Screen's weekly Reviews Newsletter with new releases, international openings and full festival reviews delivered free to your mailbox every Friday, please click HERE

Production companies
Warner Bros. Pictures
Imagenation Abu Dhabi
Media Rights Capital
Troublemaker Studios
Worldwide distribution
Warner Bros. Pictures
Producers
Robert Rodriguez
Elizabeth Avellan
Production designer
Steve Joyner
Art director
Caylah Eddleblute
Editors
Robert Rodriguez
Ethan Maniquis
Music
Robert Rodriguez
Carl Thiel
George Oldziey
Main cast
Jimmy Bennett
Jon Cryer
Leslie Mann
William H. Macy
James Spader
Kat Dennings
Jolie Vanier
Jake Short
Devon Gearhart
Leo Howard
Trevor Gagnon
Rebel Rodriguez