Latest Bond mission on brink of overtaking Avatar as the all-time champion; Breaking Dawn - Part 2 becomes eOne's biggest film ever; Ben Wheatley's critically acclaimed Sightseers opens with $342,000 (£213,014) from 92 sites.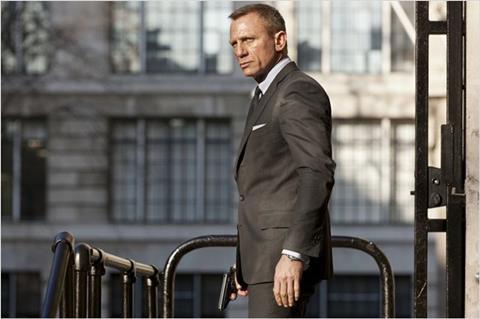 In its sixth week, Skyfall has returned to number one at the UK box office, preventing the climactic Twilight from recording a hat-trick at the top of the charts.
The latest Bond mission added $3.6m (£2.3m) through to Sony to stand at a mammoth $150.8m (£93.8m) to date. It is now on the brink of overtaking Avatar's $149.6m (£94m) haul as the UK's all-time biggest grosser, with Skyfall set to topple that record in the coming days, if not today.
While it dropped to second, eOne's The Twilight Saga: Breaking Dawn - Part 2 has achieved its own record.
The climactic instalment of the popular vampire saga is now the highest grossing instalment of the series at $50.5m (£31.4m) after only 17 days in play, topping the previous series-high of $49.9m (£31.1m) taken by Breaking Dawn - Part 1.
As a result, The Twilight Saga: Breaking Dawn - Part 2 is also distributor eOne's best-ever performance in the UK.
This week's highest new entry belonged to Paramount's Rise of the Guardians in third.
The 3D animation notched a non-final $3.2m (£2m) from its 488 sites, a debut on par with the likes of The Pirates! ($3.5m/£2.2m from 543) and Dr. Seuss' The Lorax ($3m/£1.9m from 507), yet somewhat soft in comparison to Ice Age: Continental Drift ($16.2m/£10.1m from 553, including previews) and Brave ($8.5m/£5.3m from 553, including previews).
Nativity 2: Danger in the Manger! added $1.9m (£1.2m), through eOne, to climb to $5.1m (£3.2m) after two weeks in play. It still has £2m to go to catch the original Nativity!'s tally of $8.6m (£5.3m).
Mike Newell's adaptation of Charles Dickens' much-loved novel Great Expectations opened with $867,000 (£540,000), through Lionsgate, from its 433 sites in sixth. That's a debut below Alfonso Cuaron's 1998 modernisation which recorded $1.1m (£672,376) from 336 sites. Newell's adaptation will be hoping to find a stronger audience midweek.
Warner Bros.' awards contender Argo has now taken $7.3m (£4.5m) in the UK following a $540,000 (£336,000) weekend, a slim drop of 33% in its fourth week.
It wasn't such good news for Trouble with the Curve though as it could only manage a $66,000 (£41,000) opening from its 178 sites at an average of just $371 (£230).
StudioCanal's Sightseers debuted well with $342,000 (£213,014), including previews, from its 92 sites. Ben Wheatley's critically acclaimed black comedy is around £40,000 off becoming Wheatley's best-ever UK performance, and is up for seven awards at the BIFAs this Sunday (Dec 9).
Momentum's Gambit fell dramatically in its second weekend, garnering just $206,000 (£127,946) for a running total of $1.8m (£1.1m).
This week's only saturation release belongs to Momentum's Seven Psychopaths, which opens on Dec 5. Disney's Celeste and Jesse Forever, Universal's The Man with the Iron Fists, Paramount's The Oranges and Warner Bros.' So Undercover receive wide releases, while Artificial Eye's I, Anna is among the films receiving a limited release.