Dir/scr: Julie Delpy. France. 2011. 114mins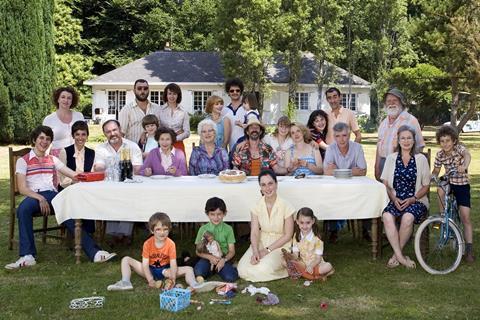 A lovingly observed group portrait of an extended family attending a weekend get-together in the Brittany countryside in July 1979, Julie Delpy's sweetly autobiographical and fearlessly bawdy comedy Skylab (Le Skylab) is 100% French and then some, yet marbled with universal touches.
There is a cheerful bawdiness in Delpy's approach.
Premiering in competition in San Sebastian, Delpy's first entirely French-language film as a writer director sports a superb cast and should enjoy a very warm welcome upon its Oct 5 French release. The lively re-creation of Delpy's childhood memories - in which a bright lass named Albertine is her stand-in - is bracketed by adult Albertine (Karin Viard), her British husband and two children trying to dislodge 4 passengers on a train. These brief episodes are a bit cranky and forced, in contrast to the lyrical body of the film - a lengthy flashback to the 48 hours when Skylab was hurtling toward Earth amid predictions that it might land in the West of France.
Grown-up Albertine thinks back some 30 years to her young self (Lou Alvarez, splendid) attending her grandmother's (Bernadette Lafont) birthday party in the company of her parents Anna (Delpy) and Jean (Eric Elmosnino, familiar from his breakthrough role as Serge Gainsbourg).
Delpy's real-life father Albert is touching as Uncle Hubert who's not quite right in the head. Vet Emmanuelle Riva is also touching as a woman whose window on the world is smaller than it might have been. Disabilities and idiosyncrasies are all taken in stride - if this is what her family get-togethers were REALLY like, Delpy is correct in guessing that transcribing them would prove entertaining to outsiders. And if she has embellished the goings-on, three cheers for artistic license.
The French, after all, make films about summer holidays and weekends in the country the way Hollywood makes movies about losers overcoming obstacles to become winners. There is much greeting of aunts, uncles, cousins, grandmothers and near-endless eating and drinking.
The accretion of detail plays beautifully and the sense of time and place is both cringe-making and delightful, from the clothes, eyeglasses and hair-dos, music and TV shows to a poster for "Alien" at the St. Malo train station.
At the tail end of the all-analogue era - 1979 is also when Super 8 unspools — the protagonists tell scary stories by flashlight in a tent at night, sing songs, play cards, go to the beach and eat and drink and eat and drink some more. There's no conflict per se, except the family dynamics bookmarked by the vague possibility that the American space station Skylab will crash to earth nearby.
While Guillaume Canet's runaway hit Little White Lies was needlessly protracted and frequently forced, this French-to-the-core ensemble comedy feels organic across the generations and situations and can take its place beside Louis Malle's Milou en Mai (May Fools, set a decade earlier) as a time capsule of French life.
Although the film adroitly touches on attempted suicide, attempted rape and whether or not saving Jews during the war was worth sticking one's neck out over, the only deeply serious scene - also among the strongest - is that in which Roger (Denis Ménochet, the rugged farmer with Jews hidden under his floorboards at the start of Inglorious Basterds) tells his brother Fredo (Jean-Louis Coulloc'h the lover in Lady Chatterley's….) how much he misses the adrenalin and manly satisfaction of combat when he was in the military.
Delpy's special talent is for incorporating details that are surpassingly odd and yet convincing. When Albertine and her dad stumble onto a nude beach, dad has a casual conversation with a naked female friend and her handsome nude son. Albertine's parents subsequently discuss the woman's unusually expansive and bushy pubic hair in front of their daughter.
Delpy's The Countess was bathed in blood. Here Albertine's parents celebrate her self-reported first menstruation as they would a good report card.
Left-leaning free spirits who do street theater, Albertine's parents describe taking their 11-year-old daughter to Cannes where they happily got her in to see both of that year's tied Palme d'Or-winning films: The Tin Drum and Apocalypse Now.
Although their relatives are baffled by why anybody would want to see EITHER movie, Anna and Jean consider these tough flicks to be ideal cultural input for their pre-teen daughter.
With over two dozen distinct, well-cast characters, this really does feel like an extended family. The kids, especially - mostly non-pros - are terrific. Sheep look on as the guests spit-roast, carve and devour one of their brethern. Watching snails copulate, one character wonders if slugs fall in love.
There is a cheerful bawdiness in Delpy's approach. A woman who claims her husband mounts her "20 times a night" elicits priceless expressions from her two female confidantes. We can see their minds racing and wonder whether they'll follow up on the startling assertion. They do.
Production companies: The Film, France 2 Cinema, Mars Film, Tempete Sous Un Crane Production
International sales: Films Distribution, www.filmsdistribution.com
Producer: Michael Gentile
Cinematography: Lubomir Bakchev
Production designer: Yves Fournier
Editor: Isabelle Devinck
Website: www.marsfilms.com/pro/film/show/le_skylab
Main cast: Julie Delpy, Eric Elmosnino, Lou Alvarez, Aure Atika, Noémie Lvovsky, Bernadette Lafont, Emmanuelle Riva, Vincent Lacoste, Marc Ruchmann, Sophie Quinton, Valerie Bonneton, Denis Menochet, Jean-Louis Coulloc'h, Michele Goddet, Luc Bernard, Albert Delpy, Candide Sanchez, Karin Viard