Dir: Frédéric Jardin. France. 2011. 98mins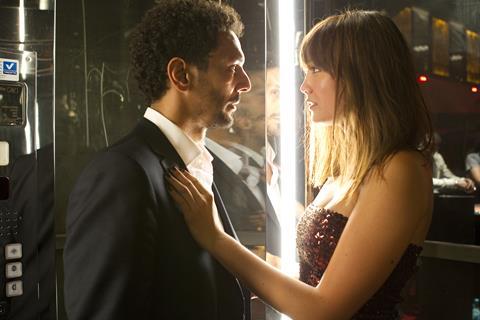 A divorced cop who abruptly turns into a caring dad once his neglected son is kidnapped; a flamboyant gangster boss who gives his blonde plaything a forceful kiss upon his entrance before complaining about his ruined D&G suit subsequently; a police corruption investigator who turns out to be more crooked and murderous than any of the criminals involved: these are but three of the caricatures pulling an all-nighter in Frédéric Jardin's high-octane action thriller.
This gritty cat-and-mouse game has been pulled off so smoothly.
Sufficiently diverting yet predictable enough to be just the perfect fodder for genre cinema enthusiasts, the movie's remake rights have understandably been acquired by Warner Bros for an English-language encore.The film screened recently at the Hong Kong Film Festival.
Predominantly set in a luxurious nightclub and entertainment complex, Sleepless Night follows the dirty cop-turned-armed robber-turned-fierce family protector Vincent (Tomer Sisley of the Largo Winch flicks) as he turns the place upside down to free his young son (Samy Seghir) from the club owner and kingpin (Serge Riaboukine) he's stolen from in an early-morning drug heist. Did we even mention the stab wound that Vincent is secretly nursing?
Followed by cinematographer Tom Stern's handheld camera with feverish precision, the frenetic paths of the characters – which notably also include a rat squad officer (Julien Boisselier), his junior colleague (Lizzie Brocheré), a Turkish mafia (Birol Ünel) and Vincent's partner-in-crime (Laurent Stocker) – converge and entangle as they secretly tail, move the stash from, or simply beat the hell out of each other in the claustrophobic space of the crowded building.
That this gritty cat-and-mouse game has been pulled off so smoothly is as much a testament to the film's impressive technical package as it is the nightclub's incredibly low level of security measures and surveillance facilities, especially given the drug dealing activities of its owner. Action buffs will probably be too elated to notice, however.
Production companies: Chic Films, Paul Thiltges Distributions, Saga Film
International sales: Bac Films, www.bacfilms.com
Producers: Marco Cherqui, Lauranne Bourrachot, David Grumbach, Jean-Jacques Neira, Hubert Toint
Screenplay: Frédéric Jardin, Nicolas Saada
Cinematography: Tom Stern
Production designer: Hubert Pouille
Editors: Marco Cavé, Christophe Pinel
Music: Nicolas Errèra
Main cast: Tomer Sisley, Serge Riaboukine, Samy Seghir, Julien Boisselier, Lizzie Brocheré, Birol Ünel, Joey Starr, Laurent Stocker