Dir/scr: Neil LaBute. US. 2013. 82mins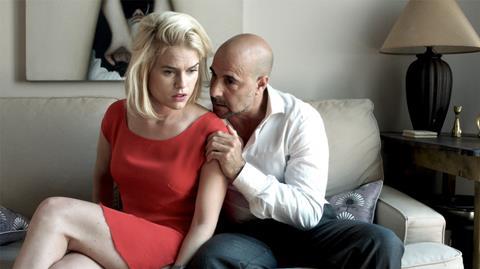 An impressively sustained two-hander that by its very nature – just two characters stuck in the slightly claustrophobic environs of an elegant terraced house – feels like a stage production transplanted to the screen, Some Velvet Morning has the sexually charged drama to sustain interest and is blessed with two wonderfully complex performances by Stanley Tucci and Alice Eve.
Neil LaBute is a master at manipulative, funny and provocative wordplay.
The film, which had its world premiere at the Tribeca Film Festival, is full of intelligent and witty twists and turns – but then, this is Neil LaBute, and we expect such moves – and while its 'surprise' ending is never quite the surprise the film demands it should be (only because one knows it must be coming) the film is a solidly made affair that should intrigue buyers and other film festivals.
The film opens elegantly with an overhead shot of a beautiful young woman (Eve) in a red dress languidly listening to music on her headphone while lying on the couch. The door bell goes, and she opens it to find middle-aged lawyer Fred (Tucci), back in her life after a four year absence and announcing that he has finally left his wife.
He wants to pick up where they left off, but Velvet (not her real name, but then one she used when they were together) is gently bemused, treats him politely and is clear that she has moved on and that her life has changed direction.
The film following their conversation as they dip into their times together, with Fred veering between angry and overtly sexual through to contrite and affectionate, while always alluding to the fact that she does everything for money and particularly upset that she still has some kind of relationship with his adult son.
Neil LaBute is a master at manipulative, funny and provocative wordplay, and Stanley Tucci is a master at crafting a charming, witty and controlling character and seems to relish the changing tones and moods that Fred has to go through in a short space of time. Similarly British actress Alice Eve (who can be seen in the upcoming Star Trek Into Darkness) is at easy as the sweet, firm, sensual and intelligently mild-mannered Velvet.
As Fred points out at one stage – when referring to the age difference between them and the brittle relationship they have - "That's the way these things go. Did you ever read Lolita? It ends badly." The film doesn't end badly…but simply with a twist that allows new directions for the characters and an emotional and subtle final scene for Eve.
Production companies: Cristile Entertainment, Contemptible Entertainment
Producers: David Zander, Trent Othick, Michael Corrente, Tim Harms, Daryl Freimark
Executive producers: Forrest E Crisman Jr., Kevin Sisti Jr
Cinematography: Roger Stoffers
Editor: Joel Plotch
Production designer: Neil Patel
Main cast: Stanley Tucci, Alice Eve