Dir/scr: Bob Byington. US. 2012. 75mins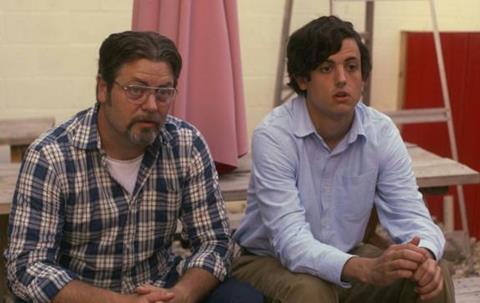 Writer/director Bob Byington, an old hand at youthful comedies, offers up a perfectly serviceable and entirely inoffensive bit of early afternoon filmic entertainment, packed with quirky quips and absurdist dialogue, delivering a condensed portrait of life 'American style' in a very small nutshell.
The performances provide just the right kind of deadpan attitude required for this type of farce.
Starting and ending most appropriately in a cemetery, with the same character repeating the same fateful line, "funny we all think we're never gonna die", Byingston's script takes his viewers for a romp journey through 35 years of his two lead characters, Max (Keith Poulson) and Sal (Nick Offerman), who never change or get any older but manage to cover quite a bit of ground for themselves.
They first meet as waiters in a steakhouse and end by owning 3000 branches of a pizza and ice cream parlor. They are each other's best and only friends, and they offer two individual but quite similar variants of life American style.
Max starts by being divorced, goes on to marry a fellow steakhouse waitress, blonde, wide-eyed but not entirely innocent Lyla (Jess Wexler), the personification of the American dream, who happens to be the daughter of a millionaire chief of police (no need to explain this oxymoron). They soon have a son, but then dark Clarissa (Stephanie Hunt) enters the picture as the boy's babysitter and Max's sex diversion and everything that follows is only too predictable to specify in much detail. Lyla's father passes away leaving behind a fortune,
Max sleeps with the nanny and Lyla sleeps with Sal. An odd lady-shrink (Megan Mullaly) drives them to the conclusion they need to divorce, and the fortune dissolves. Clarissa gets pregnant by the boy in her charge, and so it goes, a bout of cancer here and a coronary arrest there, and as previously mentioned, the end takes us back to the cemetery and the fateful phrase.
Needless to say, pain and worry are banished in this film with each character a parody of yet another generic soap-opera figure. Every line has to have some kind of punch attached to it but no punch should hurt more than a fly's caress…the sun always shines, everybody is young forever, down to his or her grave, life is a bowl of cherries as long as the mysterious suitcase, entrusted to Max in the very first sequence of the film, and transmitted to his son in the very last one, is there to provide its magic every time the owner peeps into it.
A brief, animated intermezzo of smiling white clouds in a blue sky separates between the five year leaps in the script, and the performances provide just the right kind of deadpan attitude required for this type of farce and frankly, there's nothing to worry about except one nagging question: what has all this to do with the competition in an international film festival such as Locarno.
Production companies: Faliro House, M-13 Productions
Producers: Stuart Bohart, Hans Graffunder, Christos V. Konstantakopoulos, Nick Offerman
Sales contact: Faliro House, www.falirohouse.com
Cinematography: Sean price Williams
Editor: Frank V. Ross
Production designer: George Dishner
Music: Chris Baio
Animation: Bob Sabiston
Cast: Keith Poulson, Nick Offerman, Jess Wexler, Stephanie Hunt, Marshall Bell, Jonathan Togo