Dir/scr: Michael Obert. Germany. 2013. 96mins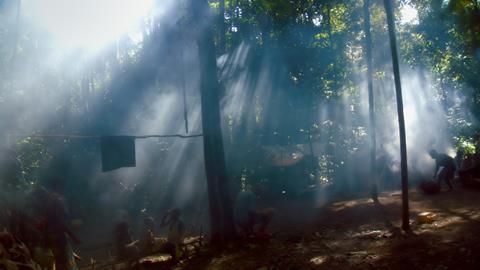 An immersive delight as it follows globe-trotting American musicologist Louis Sarno as he tracks down soon-to-be-lost musical traditions, the elegantly made Song From The Forest – and award winner at documentary festival IDFA and a strong buzz title amongst buyers – has the style, tone and look of a film that can crack theatrical distribution as well as being a must for other film festivals.
Song From the Forest succeeds in being a striking and gently haunting film.
Debut German journalist/author Michael Obert – whose friendship with Jim Jarmusch (who appears in a few scenes) helps give the film a cultural and artistic edge – veers between the mean streets of New York and the lush rainforests of Africa as Sarno sets about his absorbing work.
While still a young man, Sarno heard a song on the radio that absorbed him and he followed this musical message to its origin in the central African rainforest, where he found the music's origin with a tribe of hunters and gatherers, the Bayaka pygmies.
Some 25 years later and Sarno lives as one of them, speaks the Bayaka's language and is raising his pygmy son, Samedi. He has collected over 1,000 hours of unique recordings of Bayaka music, which he recently donated to the Pitt Rivers Museum in Oxford in the UK.
Sarno had promised him to show Samedi where he was from and so takes 13-year-old to see the life he left behind in the US. Amongst those they meet is Sarno's best friend Jim who remembers their college days and how Louis changed after his first visit to the Bayaka.
It is a charming and beautifully filmed story as Sarno – who has immersed himself in the culture of the Bayaka and had a relationship with a tribal woman with whom he has a child – finding the trip back to the US somewhat harder to deal with than Samedi who seems bemused rather than intrigued by his new surroundings.
Where the film is at its very best is when its blends its delightful visuals with Sarno's work) with the film haunting both visually and aurally. And while there is plenty of old-fashioned conversation within the film it is in sound-and-vision that Song From the Forest succeeds in being a striking and gently haunting film.
Production company: Tondowski Films, ma.ja.de Filmproduktion GmbH, WDR
International sales: Deckert Distribution, http://deckert-distribution.com
Producers: Alexandre Tondowski, Ira Tondowski

Cinematography: Siri Klug
Editor: Wiebke Grundler

With: Louis Sarno, Samedi Mathurin Bokombe