Dirs: Tyler Measom, Jennilyn Merten. US. 2010. 85mins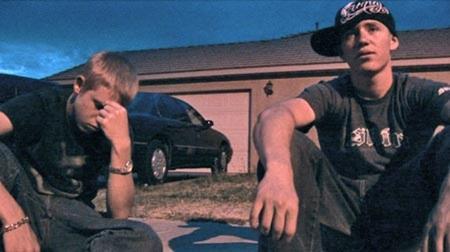 Sons of Perdition, which follows teenagers in flight from a bigamous Mormon community in the Utah desert, promises a reality check on the comic myths of Big Love. Yet the documentary fails to assemble raw testimony into a satisfying picture.
The title comes from a Biblical description of sinful men who flaunt the authority of God. Mormon doctrine decrees that Sons of Perdition will not partake of the afterlife in heaven. On earth, they are expelled and shunned.
Look inside a notorious group of bigamists in the US who force young girls to be wife/slaves should find plenty of festival exposure.
The prospect of a look inside a notorious group of bigamists in the US who force young girls to be wife/slaves should find plenty of festival exposure. Theatrical distributors may be wary of its amateurish production, editing and storytelling. Still, the titillation effect could put Sons of Perdition on television in Europe, where this brand of desert fundamentalism might be seen as exotic.
The breakaway Mormon sect that the teenagers flee is clustered in remote Colorado City Utah, framed by starkly rugged mountains. Its autocratic leader, Warren Jeffs, who had some 70 wives and arranged many more marriages, is now jailed on two convictions for "rape as an accomplice."
The film trails young men - appealing and MTV-ready - as they arrive in St. George, a southern Utah town, with stories of brutal treatment for rule-breaking and of young sisters, some as young as 13, forced to marry and serve old men. The breakaway Fundamentalist Church of the Latter Day Saints (FLDS) expels dissenters, and disowns those who run away.
A 2006 documentary, Damned from Heaven, focused on women who fled the sect.
With the filmmakers, the runaways drive to Colorado City on missions to help their teenaged sisters escape and to remove their mothers from the community. In stealth, back-seat and drive-by footage shot by Tyler Measom, we see some escape and watch elders pressure daughters to stay. When the thrill of exodus fades, the once-isolated runaways adjust with pain and difficulty to mainstream life.
In reality-style scenes, society's sins take their toll, as the kids drink and take drugs, and are eventually expelled from the home of a family that sheltered them and helped with their adjustment.
Sons of Perdition, which screened at Tribeca, tells a poignant story of the push and pull of a tyrannical cult. Yet even with access to the sect's refugees, the filmmakers' portrait lacks coherence.
It's not clear how the FLDS in Colorado City can flaunt US laws and current Mormon doctrine banning bigamy, or whether the teenagers in the film are the only ones who got out. Family connections are confusing, as is the length of time over which the film was shot. Nor do we learn the extent to which the dominant Mormon Church tolerates the extensive practice of bigamy, granting such sects near-impunity.
In spite of the film's flaws, the runaways have a rare freshness – no surprise for teenagers who never experienced the outside world. Their innocence stands in stark contrast to the calculated severity of the FLDS. In frank testimony, 14-year old Hilary tells of her father's manoeuvring to wed her to an old man.
Production values are on the level of television reality shows, as is the level of analysis in this missed opportunity.
Production Companies/Backers:: Impact Partners, BBC Storyville, Left Turn Films, Motto Pictures, Cactus Three
International Sales: Motto Pictures, 1 917-744-1355
Producers: Julie Goldman, Tyler Measom, Jennilyn Merten
Executive Producers: Greg Sanderson, Nick Fraser, Dan Cogan, Caroline Stevens, Krysanne Katsoolis, Julia Parker Benello, Diana Barrett, Abigail Disney
Associate Producers: Roman Bateman, Chris Burke, Jeff Key, Jason Watt, Sam Tang
Director of Photography: Tyler Measom
Music: Mark Geary, Karl Odlum
Editor: Jenny Golden