In a show of mass solidarity not seen since the Screen Quota protests nearly a decade ago, 74 South Korean film industry groups together held a press conference today (Feb 13) in Seoul to protest recent encroachments on freedom of expression.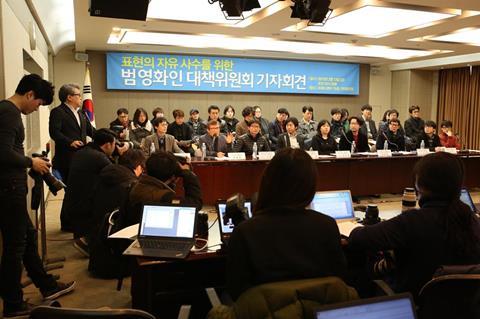 Head of this emergency committee to defend freedom of expression and president of the Korean Film Producers Association (KFPA), Lee Eun, said: "Freedom of expression is like life to artists and so without freedom of expression, there can be no development in films."
The 74 protesting groups include the KFPA, filmmakers' guilds, festivals, film commissions and Korean Academy of Film Arts (KAFA) alumni.
They stated they were moved to action because of the following infringements on the film industry's independence, autonomy and freedom of expression:
Busan City asking Lee Yong-kwan to resign as Busan International Film Festival (BIFF) director after the controversy over BIFF's screening documentary The Truth Shall Not Sink With The Sewol and later, faced with backlash, pressuring him and the festival to come up with a reforms proposal while leaking negative auditing information to local press.

(Lee held a press conference Feb 11 to refute allegations of corruption.)


Government-funded Korean Film Council (KOFIC) moving to change the festival ratings exemption system which allows fests to screen films uncensored.

Arthouse theatre Indiespace's independent film festival in January and this year's KAFA graduation film festival - traditionally a place for discovering fresh talent with alumni that includes auteurs like Bong Joon Ho and Im Sang-soo - have already been cancelled due to this move.

(50 film festivals also made a statement Feb 11 protesting the proposed change, after meeting with KOFIC chairman Kim Sae-hoon the day before.)


KOFIC attempting to change support programmes for independent film releases and arthouse cinemas so that only government-approved films would benefit.

(This has also been met with a series of strong protests and statements from indie filmmakers and arthouse cinema operators.)
Warning
The coalition warned: "If, even after this press conference, all attempts to damage the priceless values of freedom of expression, independence and autonomy don't die down, we will no longer sit by and watch."
They stated categorically: "We won't stop at pan-film industry and pan-culture industries but will organize pan-citizens' solidarity and make the utmost efforts to guard freedom of expression, a value guaranteed in the Constitution."
Question for the mayor
They posed a public question to Busan mayor Seo Byeong-soo, demanding to know if he would clearly declare that he would "definitely guarantee the Busan International Film Festival's independence" and autonomy, and not interfere or try to influence its programme selection.
They ended with a public request for a face-to-face talk with Minister of Culture, Sports and Tourism, Kim Jongdoek, regarding all these events.
International film industry support
In recent weeks, film festival heads including Rutger Wolfson of the International Film Festival Rotterdam and Dieter Kosslick of the Berlinale have sent messages of solidarity.
In a recorded message, Kosslick said: "We, here in Germany, we have a very specific situation that the government and the city of Berlin own the festival. And the head of the government and the head of the board is the German cultural minister.
"But never ever in my 14 years, they would have interfered in our programme, they would have interfered in our political issues, even if we have shown - and we have - films which they didn't like. And I know that they didn't like. A film festival and a curator has to be independent. That's the first thing with art."