Hungarian producers are setting up international co-productions of scale as Hungarian films strive to reach larger audiences than ever.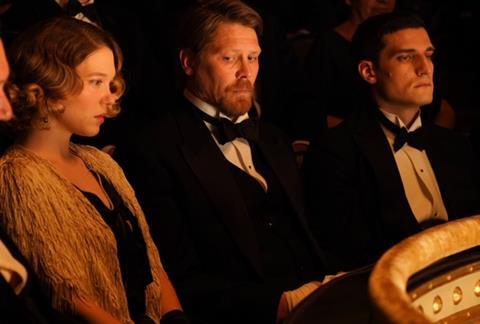 In the year that marks its 120th anniversary, the Hungarian film industry is celebrating four films in Cannes' official selection. Hungary's first ever film, The Dance, premiered in 1901, and the country went on to produce renowned filmmakers including William Fox, Adolph Zukor, Michael Curtiz and Alexander Korda. Now Hungary, one of Europe's biggest production service hubs, is aiming to grow the international profile of the local industry through new co-production and distribution strategies.
"We have very good above-the-line skills, and below-the-line talent is also strong," says Csaba Kael, government commissioner for the development of the Hungarian motion picture industry and chairman of the National Film Institute (NFI). Kael and his team will be in Cannes with the films in official selection and a variety of high-profile co-production projects, all backed by the NFI.
Competition title The Story Of My Wife, directed by Ildiko Enyedi, is a $12m (€10m) Hungary-Germany-Italy-France co-production based on the novel by Milan Fust. It follows a sea captain who makes a bet with a friend to marry the first woman who enters the café in which they are drinking. Filmed in English, The Story Of My Wife features an A-list cast in Léa Seydoux, Gijs Naber and Louis Garrel. (Enyedi's previous film On Body And Soul won the Berlinale's Golden Bear in 2017 and was nominated for the Oscar for best international film in 2018.)
"If we are making a Hungarian film, the local market is 10 million. But if we are making a co-production with multiple European partners, we can potentially access more than 100 million people," says Kael. "We are a small country but if we find good subjects we can open up the world to our stories."
Also in Cannes is Kornel Mundruczo's Evolution screening in Cannes Premiere. A co-production between Hungary's Proton Cinema and Germany's The Match Factory, the film details the story of three generations of one family with a traumatic past. The Match Factory is also handing international sales.
Also screening in Cannes is the restored version of Marta Meszaros's 1984 award winner Diary Of My Children, while rising talent Oliver Rudolf has been selected for the Cinéfondation.
Earlier this year Denes Nagy's feature debut Natural Light won the Silver Bear in Berlin. The Hungary-France-Latvia-Germany co-production is being sold by Luxbox.
Further international collaborations in the works include Dora Szucs's romantic drama Budapest, Where The Love Starts — a Hungary-Vietnam co-production that takes place in Budapest and Hanoi across two timelines: present day and 1974.
Meanwhile Tibor Banoczki and Sarolta Szabo's feature animation White Plastic Sky underlines a commitment to mounting co-productions across all genres. The Hungary-Slovakia co-production is a dystopian eco-fantasy set in a futuristic Budapest.
Filming incentive
The NFI invested $51m (€43m) in film, television and streaming productions in 2020, and international producers can apply for grants via their Hungarian partner. The country also offers the Hungarian Film Incentive, a 30% rebate based on the local spend of all film and TV projects. With no minimum expenditure, Hungarian producers — and so their international partners — can access the rebate, which extends to 37.5% when an extra 7.5% for non-Hungarian costs is added (the non-Hungarian eligible spend is capped at 25% of the rebate).
The rebate is popular with high-budget footloose international productions that visit for the locations and the facilities, most recently Warner Bros and Legendary Pictures' Dune.
Indeed, Hungary has kept all its studio facilities open during the Covid-19 pandemic. Kael is putting the finishing touches to plans to expand the NFI Studios complex near Budapest, with the addition of four stages increasing total studio capacity to 12,200 square metres, to open by 2022. NFI offers continental Europe's largest outdoor water tank, which was used for Blade Runner 2049 and Terminator: Dark Fate.
The extra stages will join a list of facilities that includes the famous Korda Studios (seven stages, water tank), Origo Film Group (nine stages, virtual stage set), Astra Studios (six stages, largest indoor tank in Hungary) and the Netflix co-owned Stern Studios (four stages).
"We have a rich tradition in filmmaking and have already had a few golden ages. We want the business to grow and continue that tradition," say Kael. "Central Europe and Hungary is one of the most interesting parts of the world. We want to show the world our life now. If we are making co-productions, it's a good way to open up distribution for our movies."
The mission of the National Film Institute (NFI) (as the successor of the Hungarian National Film Fund), in operation from January 2020, is to contribute to the production of Hungarian films or co-productions.