Dir: Dyodor Bondarchuk. Russia. 2013. 132mins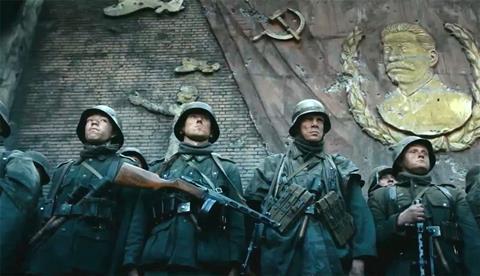 Most war films serve to make nations feel good about themselves. Russia's first IMAX 3D production, a $30 million battleground love story set during the ultimately unsuccessful autumn 1942 German siege of Stalingrad, is no exception to the rule. In a story based loosely on episodes from Vasiliy Grossman's novel Life And Fate, but more directly on the historical 'Pavlov's House', a fortified Volga-side apartment building that became a symbol of the dogged Soviet resistance, a band of heroic Russian soldiers hold out against far superior German forces while attempting to shelter the block's only surviving resident, an innocent young woman, from the surrounding chaos and cruelty.
It all moves along at a cracking pace, and although they never push back the 3D borders, the battle scenes, with their nods at video games like Company Of Heroes, are smartly choreographed.
But at least the characters in this patriotic love-in are mostly believable, and the script does a decent job of getting us from one incendiary battle scene to the next by focusing on the human costs of war in a densely populated city. It's a commercially clever product too, which with its video-game nods, careful avoidance of a black-and-white, goodies and baddies approach to the battle, pick n' mix referencing of other genres from horror to kung fu to Western, and worthy modern-day Tohoku earthquake narrative frame, has been crafted to appeal to audiences outside Russia.
And so far the gamble seems to have paid off: after a record-breaking opening week in CIS territories following its October 11 release, the film has gone on to post impressive figures in China, where it opened on $8.3 million, the biggest ever weekend haul for a non-US, non-Chinese movie. Its prospects in the US and Western Europe will however be affected by the film's relatively unexciting use of 3D and the dubbing/subtitling dilemma. If Columbia decide to take the latter route they'd do well to start from scratch, as the English subtitles on offer during the film's Rome film festival premiere bordered on incomprehensible at times – 'Here slop the scouts!' being a particularly memorable example.
In a story frame with only a tenuous link to the main plot, we see a Russian search-and-rescue squad helping to free some kids trapped in the rubble of Japan's Tohoku earthquake. This seems designed to show that Putin-era Russians can be heroic too – and the fact that the kids are German (the subtext being that we can forgive and forget) ramps up the feelgood nationalism.
But it's soon back to September 1942, when the German advance into Stalingrad had halted in the face of ferocious street fighting, with buildings being fought over room by room. In the chaos, army divisions are rent asunder and recombine in new guerrilla formations – so, having secured a battered old city centre apartment block, dashing captain Gromov (Fyodorov) finds himself in charge of a motley crew of army and navy operatives, each with their own backstory (handily provided by a gravel-voiced narrator). And they have a guest: Katya (Smolnikova), a delicate slip of a 19-year-old girl, who for the siege-weary soldiers will act both as a touchstone of life, love and innocence and a source of sexual tension. Meanwhile, on the German side, Gromov's nemesis Kahn (Kretschmann), a Nazi officer with a noble soul, pays guilty visits to Masha (Studilina), a used-and-abused local girl whose beauty is her downfall, while becoming increasingly embittered about the futility of this war of attrition.
It all moves along at a cracking pace, and although they never push back the 3D borders, the battle scenes, with their nods at video games like Company Of Heroes, are smartly choreographed. The devastating firepower of incessant Luftwaffe strafing is well conveyed, as is the proximity of the two sides in a battle where snipers and hand-to-hand combat were as devastating as conventional bombing and tank warfare. Mostly, though, it's the committed performances from the well-cast and well-directed Russian and German talent that save this film from sinking under the weight of its own clichés.
Production companies: Non-Stop Production, Art Pictures Studio, with the participation of Twin Media
International sales: Sony Pictures Releasing via Columbia Pictures
Producers: Sergey Melkumov, Anton Zlatopolskiy, Dmitriy Rudovskiy, Alexander Rodnyansky
Executive Producer: Natalia Gorina
Screenplay: Ilya Tilkin, Sergey Snezhkin, based Vasiliy Grossman's novel Life and Fate.
Cinematography: Maxim Osadchiy
Editor: Natalia Gorina
Production designer: Sergey Ivanov
Music: Angelo Badalamenti
Main cast: Pyotr Fyodorov, Thomas Kretschmann, Sergey Bondarchuk, Maria Smolnikova, Yana Studilina, Andrey Smolyakov, Dmitriy Lysenkov, Alexey Barabash, Oleg Volku