Dir: Christian James. UK. 2013. 80mins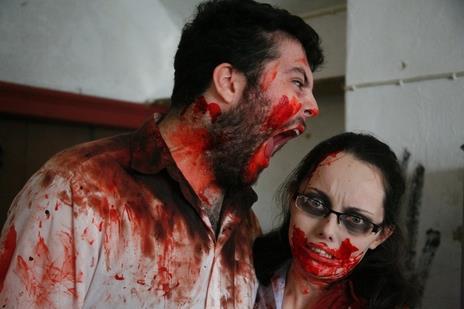 W.C. (Dan Palmer), a hapless maintenance man in an office building, is trapped in a stall in the ladies' loos during a Christmas party that gets out of hand. First, he hides in embarrassment when a pair of drunken fancy-dress women (Victoria Broom, Sarah Biggins) wander in and start French-kissing. Then, he stays in terror as an escalating zombie infection overcomes the revelers and brings a horde of dressed-up shamblers (including Zombie Jesus and a Zombie Elf) into the rest room.
Very proficient technically this is a worthy successor to Shaun Of The Dead and Harold's Going Stiff.
A girl (voiced by Antonia Bernath) trapped in another stall strikes up a conversation with him, which ranges widely about their troubled lives, and W.C. is inspired to make creative attempts to extricate them from their predicament. Set over the Christmas Holiday, Stalled debuted at London's FrightFest alongside Antisocial, a zombie apocalypse film set over the New Year holiday – indicating just how crowded the zombie apocalypse sub-genre is these days.
Director Christian James and writer/star Palmer, who previously collaborated on the indulgent Freak Out, deliver something surprisingly fresh, considering the setting and theme.
Palmer's everyman hero is onscreen constantly and the film only ventures outside the ladies' room for one (very funny) drug-fuelled dance scene and an epilogue which suggests an even smaller space for any possible sequel. With a sweet, yet barbed voice-over performance from Bernath as a heroine represented by W.C.'s drawing on the stall partition, the character drama is genuinely funny and – thanks to a late-film revelation – a little deeper than expected.
The confined space is cleverly used, with every object – a tool-box, a ladder, even a bin full of used tampons – made use of. At one point, W.C. has to use a discarded bra as a slingshot to aim severed fingers at a fire-alarm button. Running jokes flesh out the characters of the office types – including the legendarily heroic Jeff From I.T. (Mark Holden) – we get to see as zombies, while Tamaryn Payne shows up at the end as an office angel whose snippy, self-involved attitude pays off with a comeuppance after the end credits.
Very proficient technically (and certainly a major advance on the crude Freak Out), this is a worthy successor to Shaun Of The Dead and Harold's Going Stiff in its mix of homage to past zombie film glories and very British social comedy. Properly handled, it could scare up cult audiences theatrically before becoming a lads' night in DVD staple.
Production company: Cubicle Hero
International sales: Odin's Eye, http://www.odinseyeent.com
Producer: Richard Kerrigan
Executive producers: Daniel Pickering, Peter Stanley-Wood
Screenplay: Dan Palmer
Cinematography: Sashi Kissoon
Editor: Mark Gilleece
Production designer: Antony Haylock
Website: http://stalledmovie.com
Main cast: Dan Palmer, Antonia Bernath, Tamaryn Payne, Mark Holden, Giles Anderson, Sarah Biggins, Victoria Bloom